Follow this Guide to use Stavvy's QC/Acknowledgment Feature
Why use QC/Acknowledgement?
If your Organization requires further review and certification of any certified Closing Documents
*Please note that certified documents from a Signing Meeting will not show in Acknowledgment, only certified documents from a Closing Meeting*
QC/Acknowledgement Flow
Once a Stavvy Meeting has been held and Documents are finalized, click on Acknowledgement from the left-hand panel (see bottom of this page if Acknowledgment doesn't show on your Transaction list)
There are 4 statuses within Acknowledgement:

Initial Review

Acknowledge

Final Review

Reject Handling




---

Initial Review tab

Any certified Documents from a Meeting will show here
Click "Start QC" to start the Acknowledgment process

Review the certified document, and see options on the left for Quality Control Review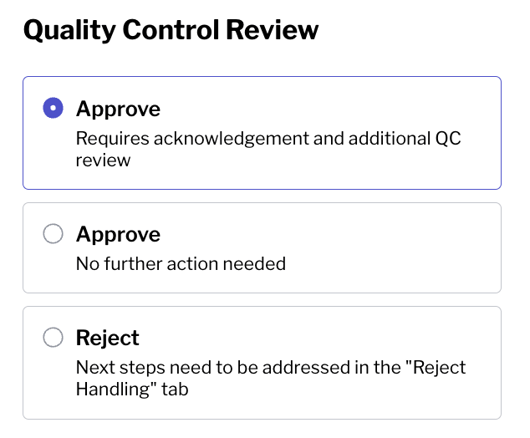 Approve- Requires additional Acknowledgment, the document is now in the Acknowledge tab
Approve- No action needed, the document is now in the Completed tab on the left column
You will be prompted to confirm that no further action is actually needed on this document, please take a moment to double check the document before clicking Approve.
Selecting Approve: No further action needed, cannot be undone by Flagstar
Reject- Provide a reason the documents are being rejected, the document is now in the Reject Handling tab (See below for Reject Handling instructions)
Once your selection has been made, and submitted- while still on the page you do have the option to Undo QC and change your selection.

Please note, once you leave this page, there is no longer an option to undo the QC selection, so please be certain in your decision before moving on.
---
Acknowledgment Tab

If Approve-Requires acknowledgment was selected in the Initial Review, the Document will now show under the Acknowledgement Tab
Click "Schedule" to create a RON Meeting on this document

Choose the meeting date, time, notary host, and any additional attendees. Click Create Meeting.
Whoever is creating the meeting will default to the only signer, the notary will need to be a different user
If a name or email was misspelled or needs to change to another user, navigate to the Participants section of the meeting details page then select "Edit" from the action menu.
Internal participants will have the option to be reassigned to other users within your organization.
Follow this link here for full instructions on adding attendees to acknowledgment meetings
Apply your signature, notary signature, and seal annotations to the document. For information on document annotation tagging, click here
At the date/time of this Meeting, both you and the Notary should join/sign the documents
Once the meeting is complete and the newly notarized document is finalized, the document will now show in the Final Review tab
---

Repeat Quality Control Review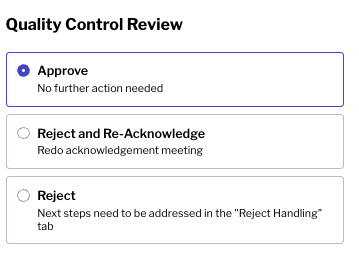 Approve- if document is all set
Reject and Re-Acknowledge- sends document to Reject handling tab to redo Acknowledgment meeting
Reject- sends document to Reject handling tab (see instructions below)
---
Reject Handling tab

If selecting "Reject" at any point in the process, the Document will go to this tab (ex: because information on the document was incorrect)

Click "Start"

Review all information on the next screen, and click "Next"
Select a next step for the document

If final review selected "Reject and Re-Acknowledge", here you can schedule a re-acknowledgment meeting and repeat the process outlined above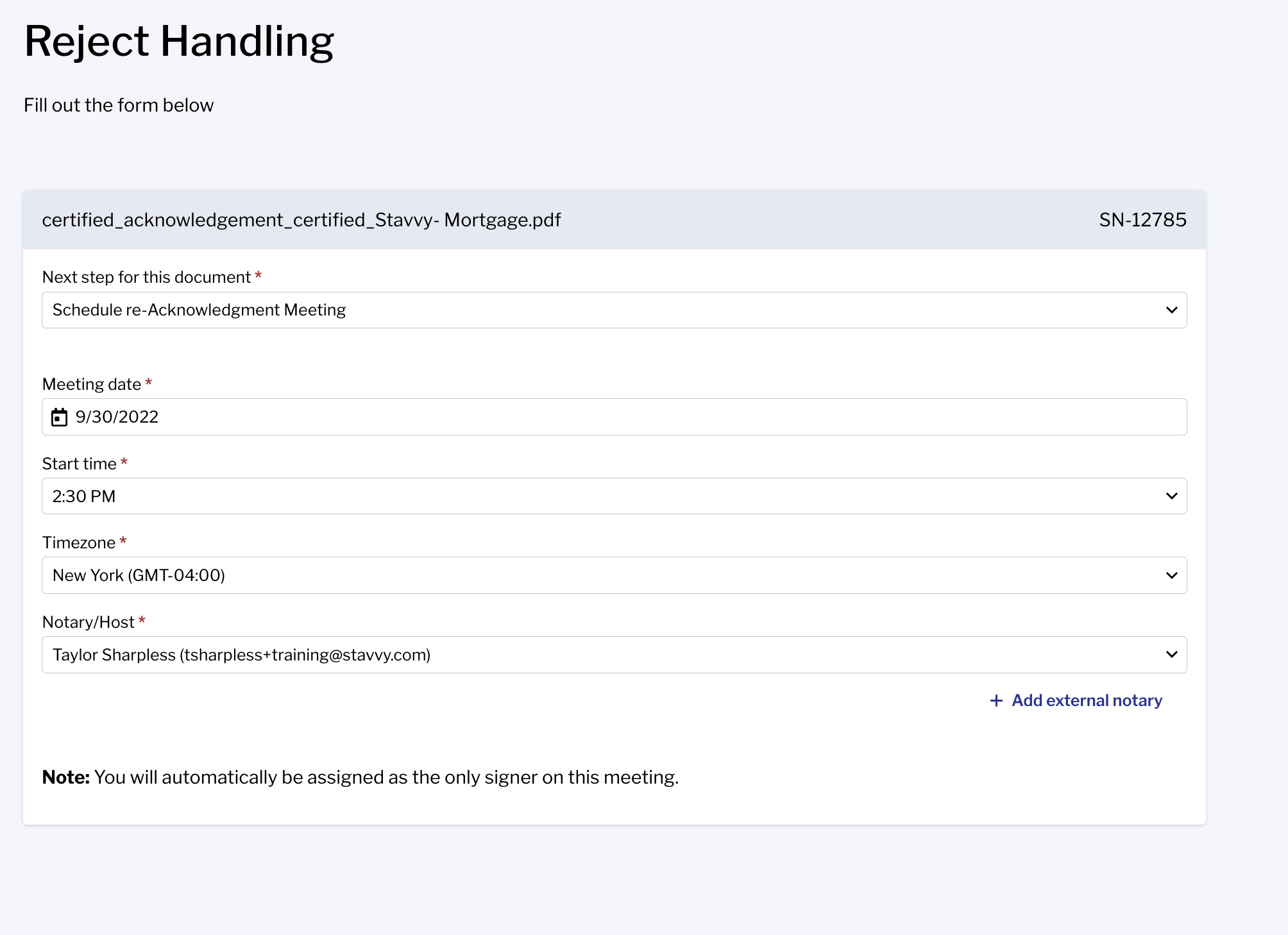 If initial or final review had selected "Reject", you will select "Archive this document"
Select a reason for cancellation

Now, restart the process, drafting new documents, holding a meeting with the signer(s), and running the newly certified documents through the Acknowledgement process
For questions on this process, reach out to support@stavvy.com
---
How to turn on QC/Acknowledgement?
If enabled, Acknowledgement will show as an option on the left-hand panel under Transactions
If Acknowledgement is not showing, Admins of your Stavvy account can enable this by clicking on their name at the top right of any page in Stavvy, and then click on:

Settings > Organization > Check off QC/Acknowledgement