Send this article to Signers ahead of their Stavvy Meeting to prepare them to take the KBA
KBA stands for Knowledge-Based Authentication, which is a layered safeguard to ensure the identity of a Signer. The KBA is aimed to reduce fraud and provide a secure experience for all parties.
In a KBA session, Signers will first enter their current address, as well as their date of birth
Signers will then be asked 5 questions in a 2-minute period.

To pass, 4 out of 5 questions must be answered correctly.
Signers will be given 2 attempts to pass- if they do not pass in either attempt, they are required to wait 24 hours before they are able to try again. This is a MISMO regulation.
If a Signer fails the KBA twice, you will need to stop the meeting, and add another Meeting at least 24 hours later.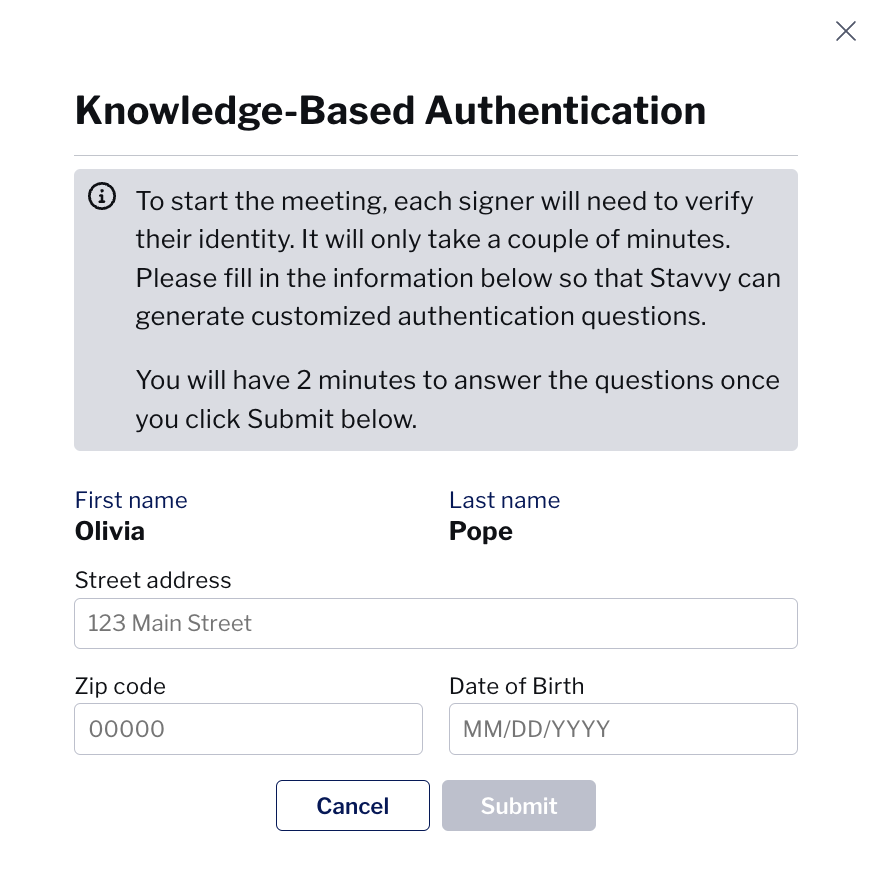 What will Signers need to know for the KBA?
We recommend that Signers prepare for the type of questions that will be asked of them.
The KBA questions are based on information from public records and credit reports. Questions change from session to session. They often deal with geography, vehicles, and purchases. Signers can expect to be asked questions about:
Addresses they have been associated with, including square footage
The color, make, and model of a car they've owned
Loan history, including month/years of a loan, and the company that holds it
Phone numbers they have been associated with
A few digits of their SSN
A recent purchase on a credit card
Phone numbers that belonged to them
People they may know
Previous names
Read
this guide
for some popular KBA Troubleshooting Tips

Here's to a successful Closing!