A complete guide to purchasing/downloading/uploading an IdenTrust Digital Certificate into your Stavvy Notary Profile on a Windows computer
For MacOS instructions, click here
---
Purchasing Your IdenTrust Certificate
Notaries who wish to use Stavvy must have an IdenTrust certificate added to their profile, or they will not be able to conduct closing and signing meetings. If you haven't already purchased your IdenTrust certificate, head to: identrust.com/partners/stavvy.
1. Scroll down, and click on "Buy Now".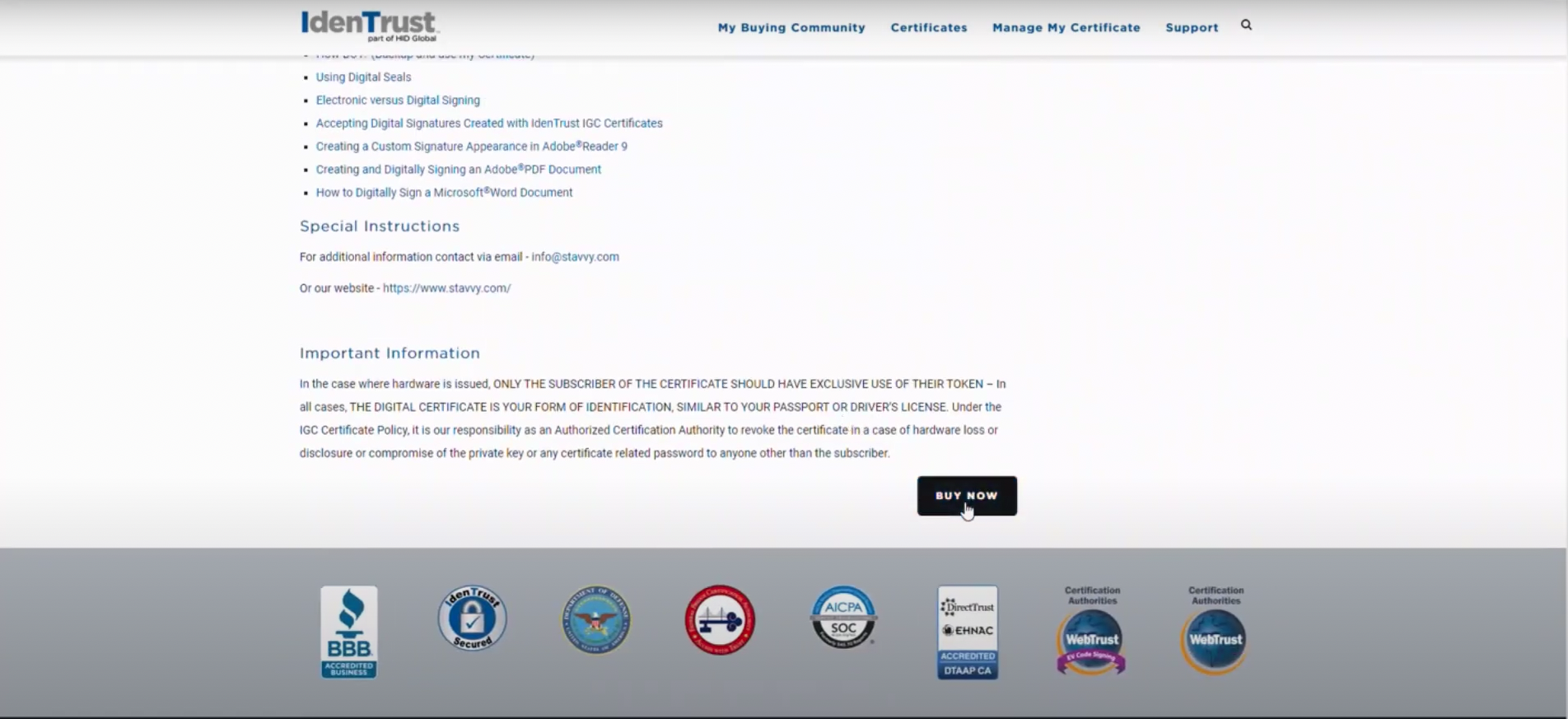 2. On the following screen, Click "Next", and select the duration that this certificate should remain valid, and review the pricing of each option. The storage for the certificate will be Browser, which allows you to download the certificate and upload it later into Stavvy.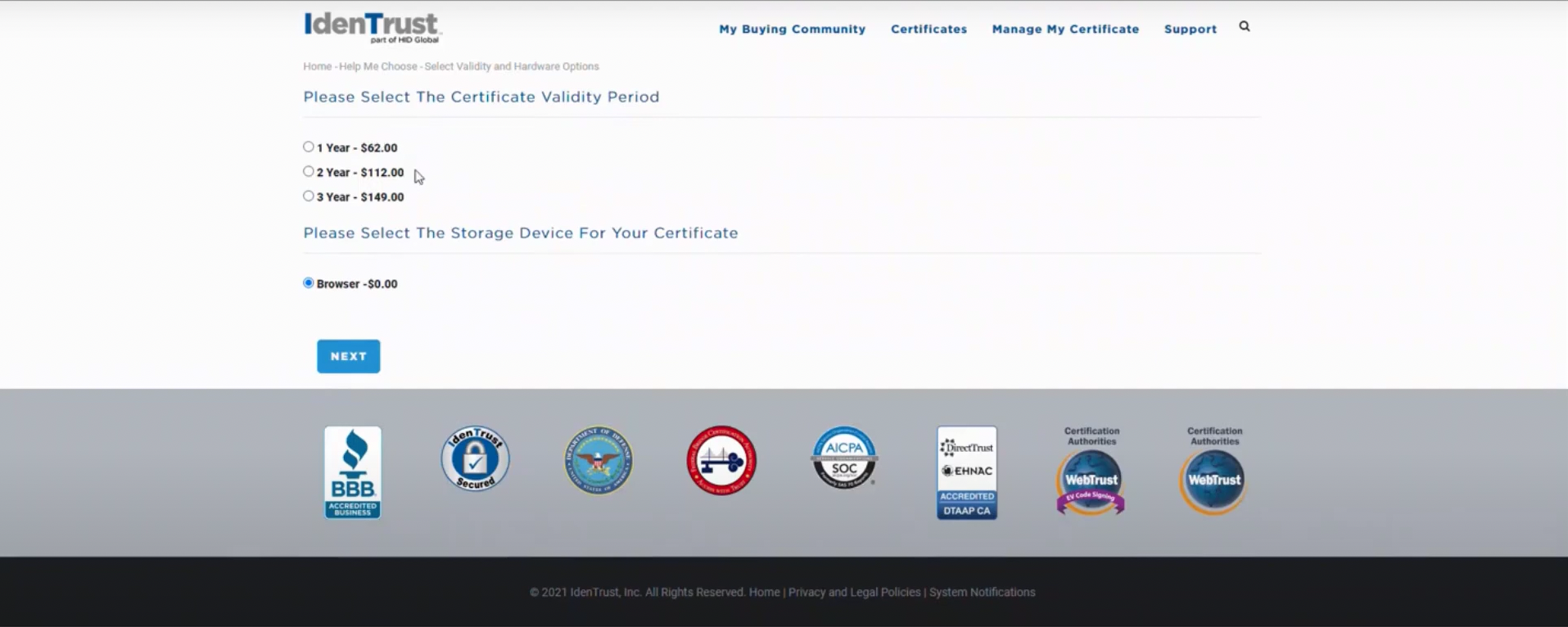 3. Click "Next" once you have made your selection, and then "Buy Now"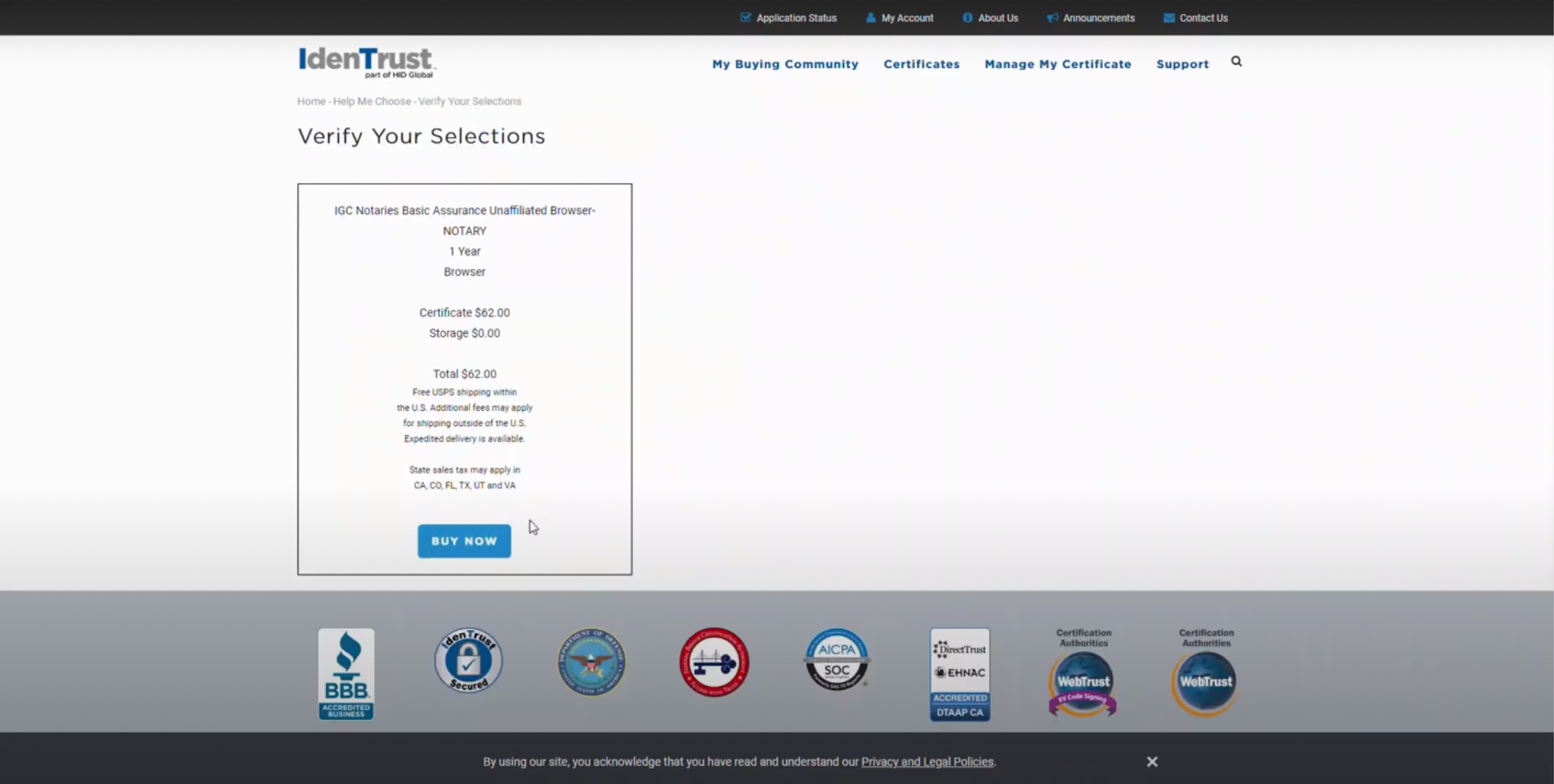 4. If you have purchased your IdenTrust certificate through another platform, such as the National Notary Association, and have received a voucher, you have the option to enter it on the page below. If you do not have a voucher, leave this blank and click "Next."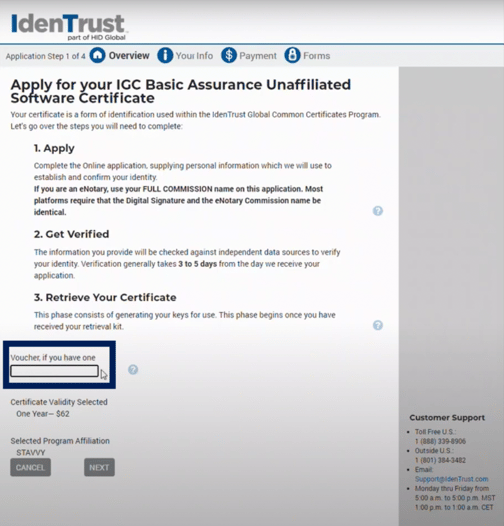 5. On the next page, you will enter personal information about yourself, meant to verify your identity.
This should be personal information entered. If you enter business information, IdenTrust will not approve your application and you will need to start over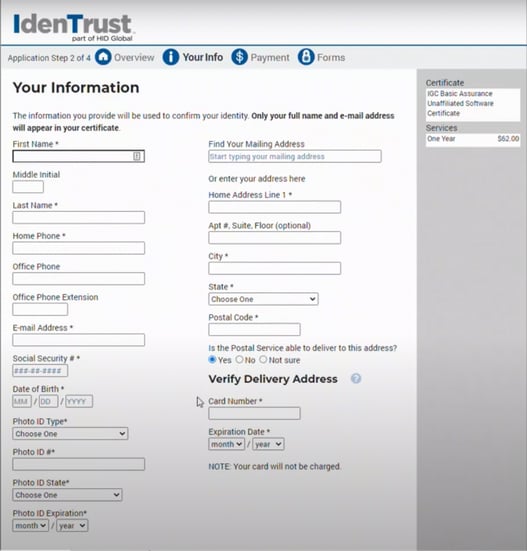 Please note that the credit card number asked for on this page is not the card used to pay for the IdenTrust certificate. If your company is paying for this certificate, this is not the place to enter the company card information
You need to enter your personal credit card on this page for further ID verification

6. Next, you'll set up security questions and provide answers that will allow you to access your account at a later date.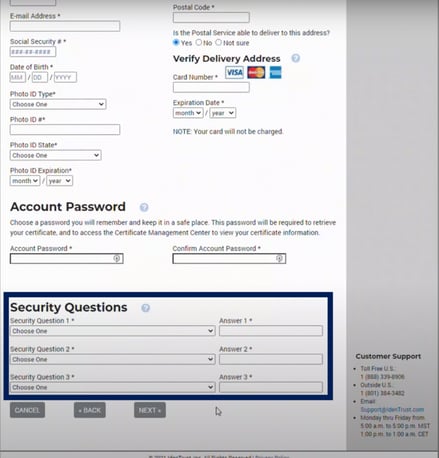 7. When you are finished, click Next. You'll be brought to the payment screen, where you will pay for the certificate. Note that this card will be charged.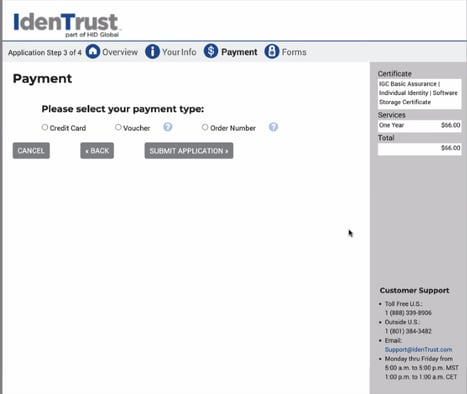 8. Once your payment goes through, you will receive an email from Identrust to verify your email address.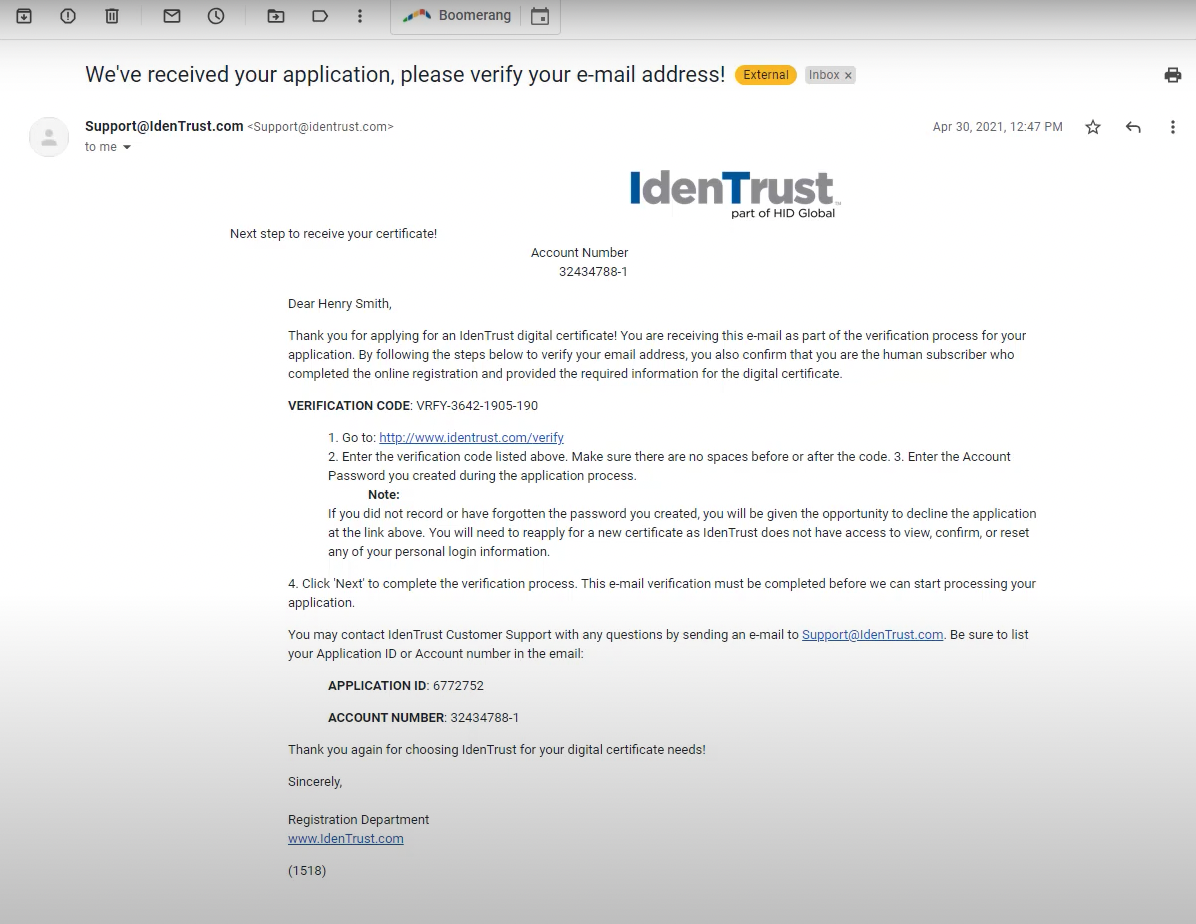 9. Once your email is verified, you will receive a second email, which will confirm payment.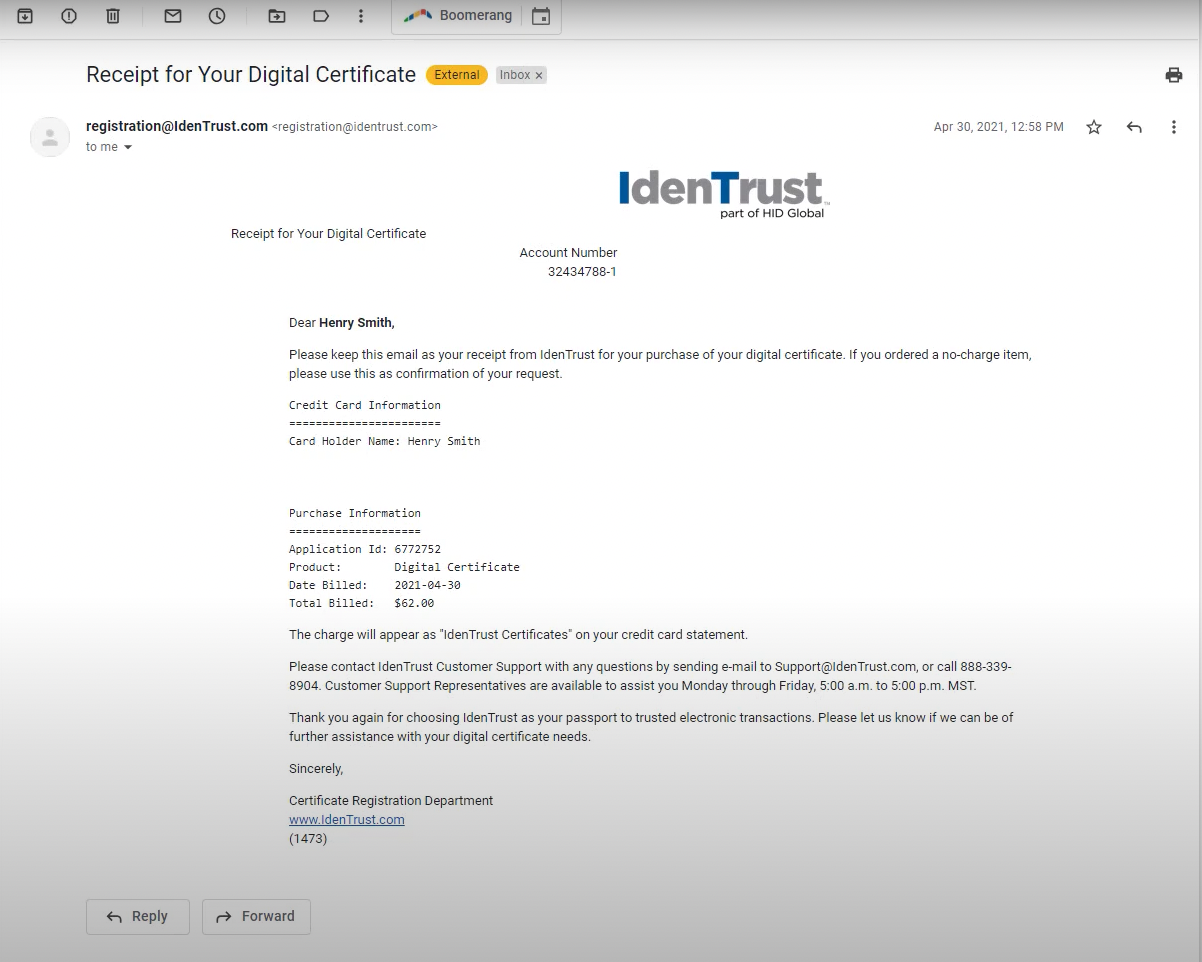 10. IdenTrust will complete ID proofing measures to confirm your identity with organizations such your bank and the DMV. Once complete, you will receive an approval email. This email will contain login instructions in order to download your new certificate.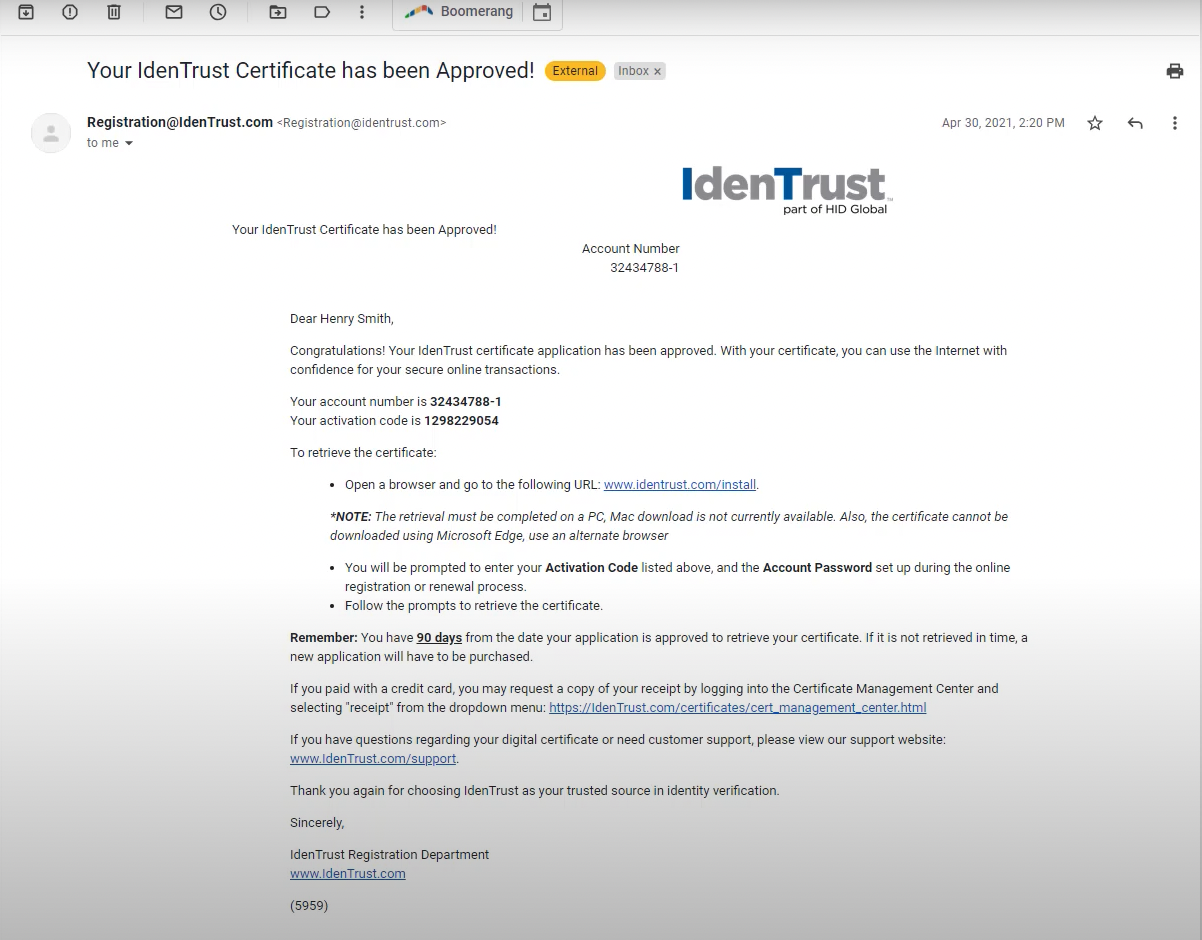 11. Keep this email open on one tab, and open the link within the email on a separate tab. Click "I'm ready" on the page. On the next screen, enter your account password, and click "Next."

Downloading Your IdenTrust Certificate
Step 1: Click "I'm Ready"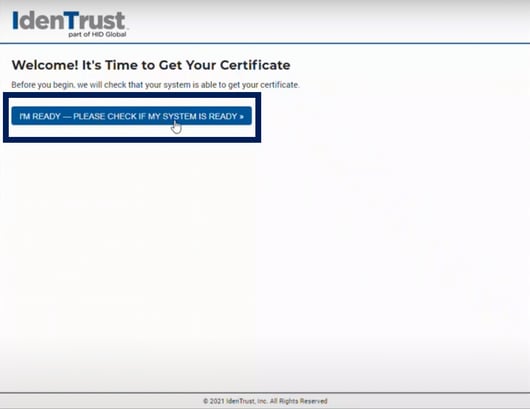 Step 2: Login with your credentials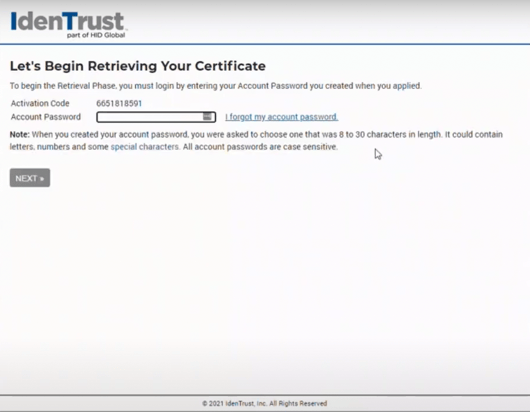 Step 3: Accept Agreement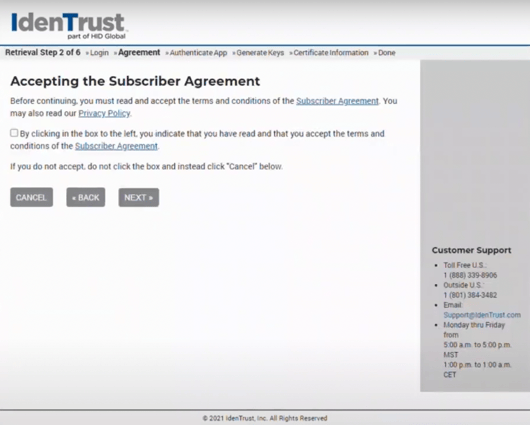 Step 4: Download and Run the IdenTrust Retrieval Application
Drag the key from the Identrust site over to the lock in the Application, or click Copy Key below the key, and paste into the Application
Once authenticated, click Generate Keys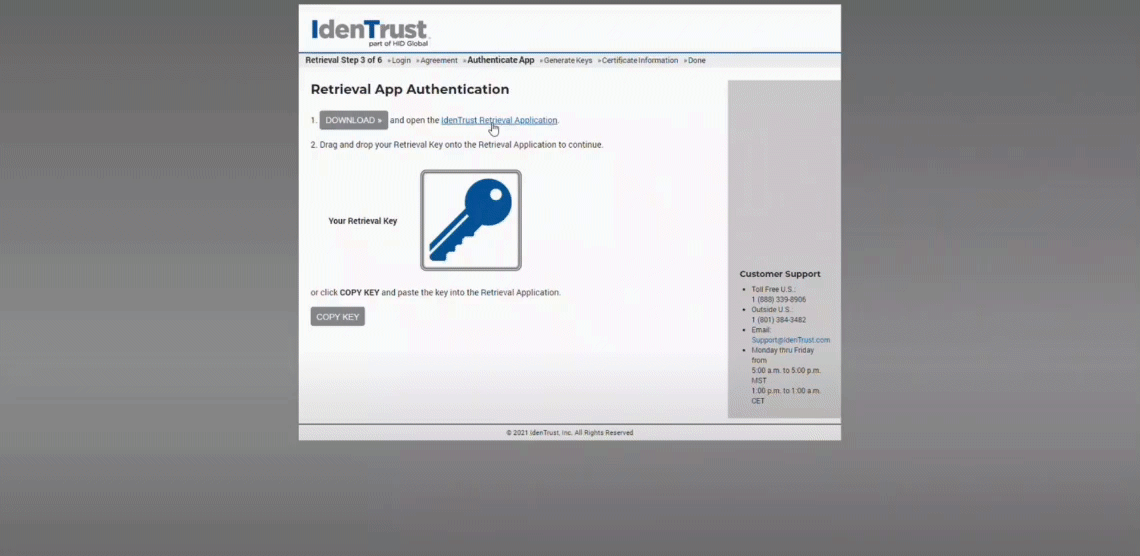 Step 5: Select the Security Level For Your Certificate.
If you select high security, you will need to enter your account password each time you download the certificate. Medium security will not require a password.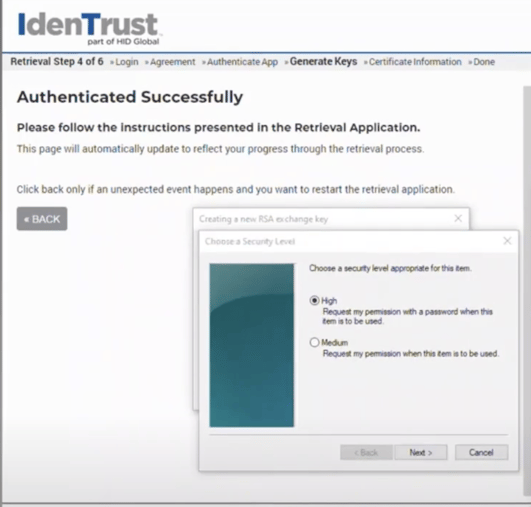 Step 6: Click "Next", and then click "Finish", and then "OK". Now the system is downloading your IdenTrust certificate.
IdenTrust has two types of certificates, encrypted and non-encrypted. Non-encrypted is what Stavvy requires. It is optional to download the encrypted certificate as well

Step 7: Backup your certificates (recommended)
Select which certificate to backup, Signing, or Encrypted. Export all extended properties. Click "Next", and then create a password for your backup. Select where your backup should be stored, such as your Desktop. Click "Next", then "Finish", and then "OK".
NOTE: If you selected high-level security, you will be prompted to enter your IdenTrust password again.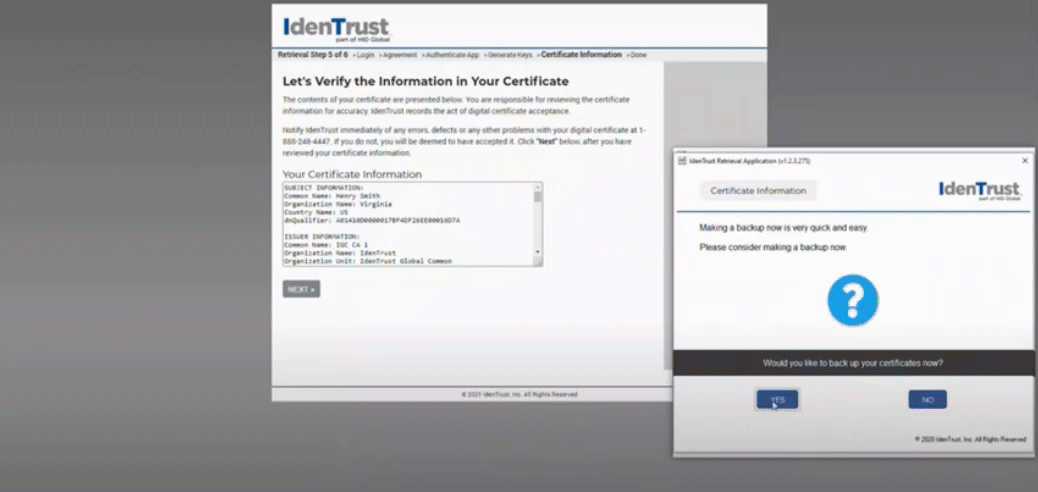 Repeat the steps to backup your encrypted certification as well. Once you have backed up your certificates, click "Close."
On the next screen in the application, you are able to test the certificate if needed. When finished, click "Done."
Step 8: Verify Your Information.
On the Identrust website, verify the information in your certificate is correct, and once you have, click "Next."
In order to verify the certificate, be sure to close out all of your browsers. Once you've done this, your certificate will be ready within your IdenTrust Account.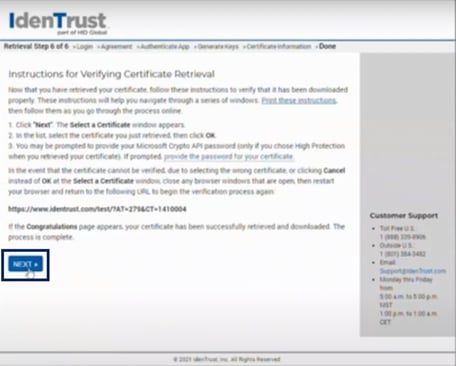 Adding IdenTrust Certificate to your Stavvy Notary Profile
Within Stavvy, click on your name at the top right corner and click Settings, and head to the Notary Profile. Click on Upload Document under Upload Digital Certificate. Find where you stored your certificate on your computer, and be sure to use the non-encrypted version. Next, enter the certificate password. When complete, the screen should say it was successfully uploaded.
NOTE: Wait 20-30 seconds for upload to complete and screen to update.
If you need to reset your certificate password, follow instructions
here

IdenTrust Digital Certificates are required to notarize a RON document, and they must
not
be expired.
You are expected to replace your IdenTrust Digital Certificate ahead of it's expiration, otherwise you will lose your ability to notarize RON documents in Stavvy until it's update in Notary Profile Settings and Stavvy has re-approved.
Watch video demonstration here
If you have any questions on this process, feel free to reach out to IdenTrust, or contact Stavvy's support team--support@stavvy.com