Find out about our latest product updates. In this release we've added Quality Control to file documents, eNote signing restrictions, Vendor Connection improvements, and the ability to easily navigate through meeting and file documents.
Date: January 18, 2023
Release Contents
Bug Fixes

Notary Listed for Rescheduled Meetings

ID Verification Error Message
eSign Documents List
Document Signing Confirmation Email
Download All Documents From Files
---
🔎 Pre-Meeting Quality Control
Summary: Vendors assigned to an origination order can now verify the accuracy of documents and their annotations, and perform a quality control task to alert the file owner to any issues.
Organizations can turn on Quality Control in their settings allowing users to reject documents, and they also have the option to enable strict quality control requiring users to approve or reject documents before adding them to a signing meeting.
Helpful Hints: Pre-meeting QC will take place on the file, meaning annotations can be viewed on documents when they are in the file, all file documents will be shared with connected vendors by default, and the various parties connected to a file can move approved or non-rejected documents to a meeting when ready.
Pre-Meeting Quality Control Organizational Settings

Quality Control Action Menu Item

Quality Control Document Viewer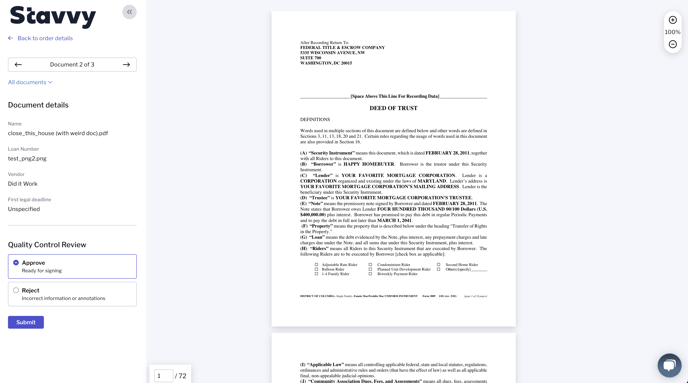 ---
✍️ Restrict eNote Signing to Closing Meetings
Summary: Organizations that want to ensure that eNotes are signed on the same day as the underlying instrument can use this setting to support this part of their workflow. Enabling this setting will prevent signers from accessing the eNote for signing purposes outside of their scheduled closing meeting.
Helpful Hints: When this setting is disabled, eNotes can be signed in either an eSign packet or a meeting.
To enable this setting, navigate to Settings > Organization > Compliance.
This feature is only available when your organization is connected to an eOriginal vault.
eNote Restriction Organizational Setting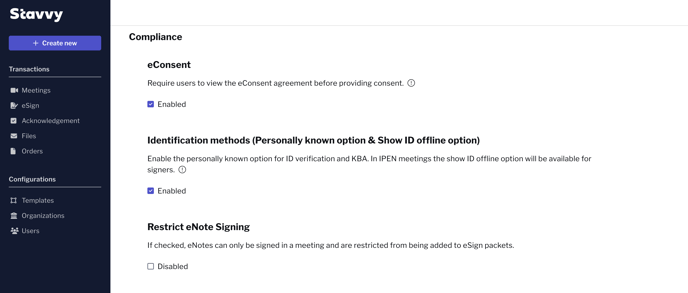 ---
🔗 Vendor Connection Updates
Summary: The process for connecting with vendor organizations has been updated to make it easier to invite existing and new vendors to collaborate with you in Stavvy.
We've made it easier to find and connect with organizations that are already set up in Stavvy and invite those who are new to the platform.
Helpful Hints: We've added new functionality to help connect with vendors
On the organization page:
The ability to search on statuses of connected accounts via a drop-down filter (Connected, Invited, Rejected)

Displaying company (vendor) name & address

Displaying full address while hovering with a mouse
You can now easily filter by a connected organization's status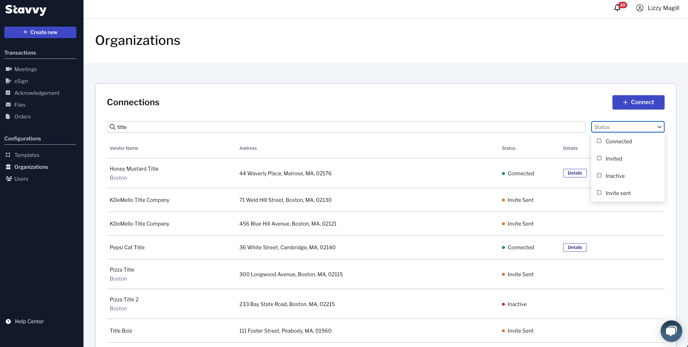 The updated Connected Organization Details Page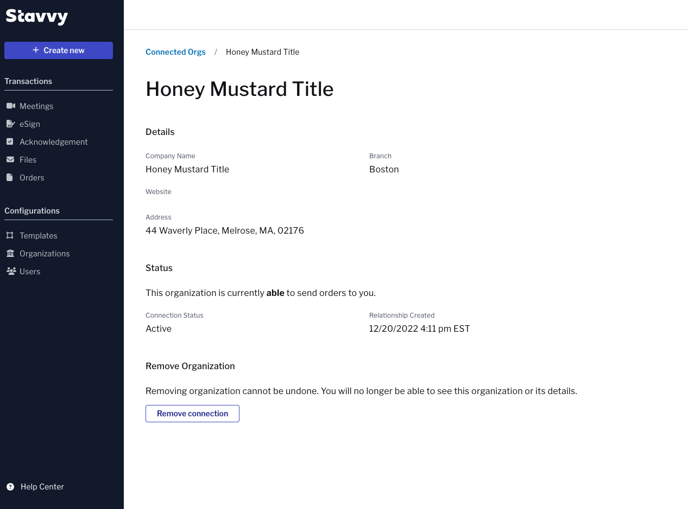 The invite flow via the Connect+ button:
A matching functionality that displays existing accounts if there is a similarity between the organization details of the new account and existing ones. I.E.: A match on company name, email or address.

Messages and UI indications to prompt you to look through existing matches (if there are any) before submitting an invitation.

The ability to go back and edit the details of an organization before the invite has been sent.
Stavvy will find organizations you are already connected to or those similar to the one you are trying to invite, in case the organization already exists.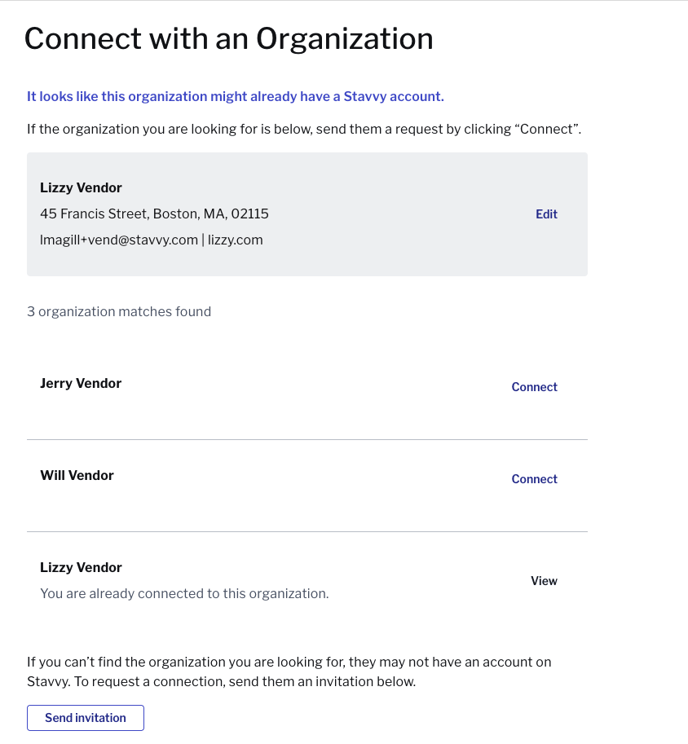 ---
Product Enhancements
Check this section for minor feature updates and improvements we've made to Stavvy!
Navigate through Meeting and File Documents
What changed?: We've added a popular eSign feature to Meetings and Files! Users can now quickly navigate to other documents on a file or in a meeting by using the arrows in the left sidebar menu or the document list dropdown. This navigation is available while viewing or annotating documents.
Area of the Product: Meetings, Files
Impacted Users: Meeting Creators and Hosts, File Creators, Vendors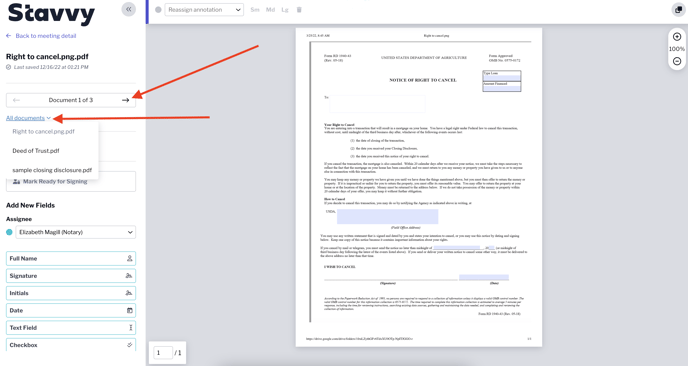 ---
Rejected Order Notification
What changed?: We've added an email notification to alert users if their order has been rejected. Rejected orders can be reassigned to another vendor or reopened.
Area of the Product: Files, Orders
Impacted Users: File Creators, Vendors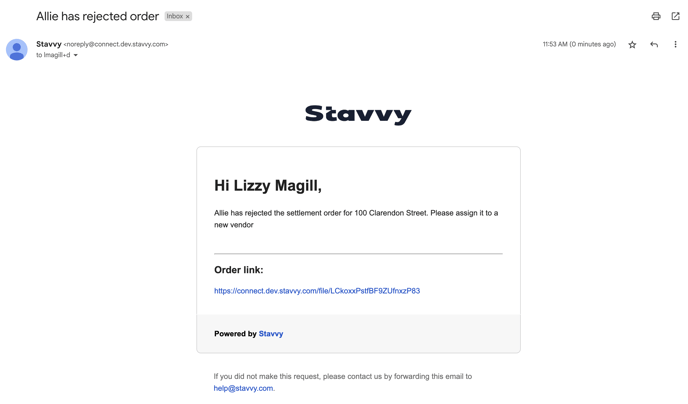 ---
Bug Fixes
Whoops - our bad! Here's the latest list of bugs we've squashed.
Notary Listed for Rescheduled Meetings
What was fixed?: When an existing meeting was rescheduled and then assigned to a new notary to host, then the old host was still displaying as the notary on the meetings list page. The new host will now show on the meetings list page.
Area of the Product: Meetings
Impacted Users: Notary Users
Reference Ticket: SUMMIT-731

---

ID Verification Incorrect Error Message

What was fixed?: Some users were seeing an incorrect message that signers had reached their ID verification attempt limit after successfully verifying their ID. We've corrected this and an error message will only show if an ID verification attempt fails. There is no longer a limit on ID verification attempts for each signer.

Area of the Product: Meetings, ID Verification

Impacted Users: Meeting Hosts

Reference Ticket: PRISM-867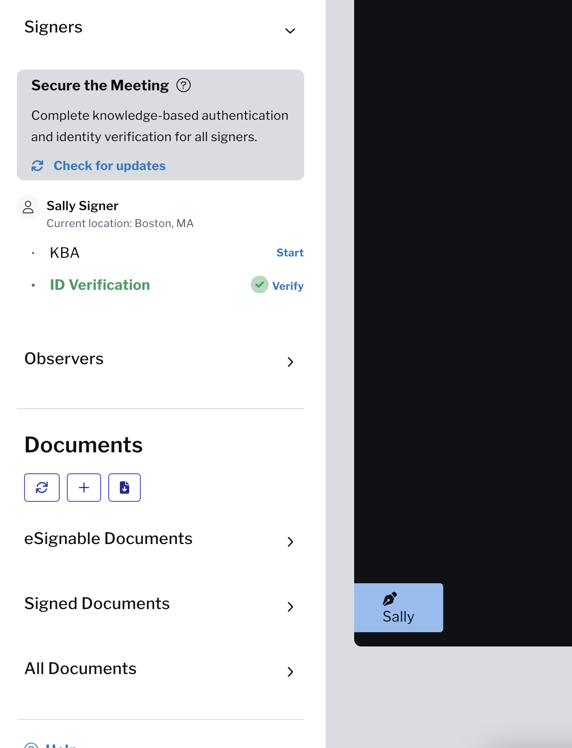 ---
eSign Document List
What was fixed?: The documents list in the eSign Packets details page was requiring a refresh to show changes after a document was uploaded or removed. The documents list now stays up to date as soon as a document is added or removed.
Area of the Product: eSign Packets
Impacted Users: eSign Packet Creators
Reference Ticket: PRISM-850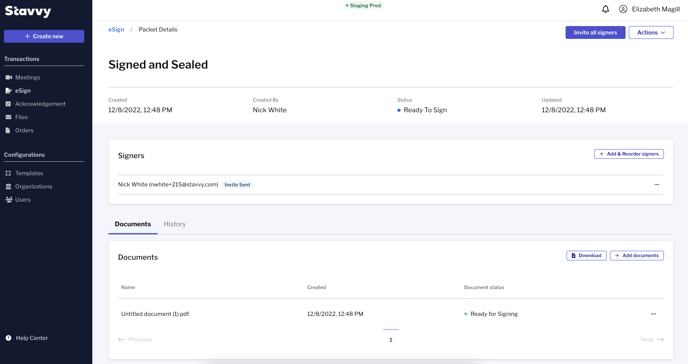 ---
Document Signing Confirmation Email - Signer Name Format
What was fixed?: The email to confirm all documents have been signed was adding a closing parenthesis ) symbol in between the signer's first and last name. This has been removed and displays the signer's name as expected.
Area of the Product: Meeting Emails
Impacted Users: Meeting Hosts
Reference Ticket: SUMMIT-722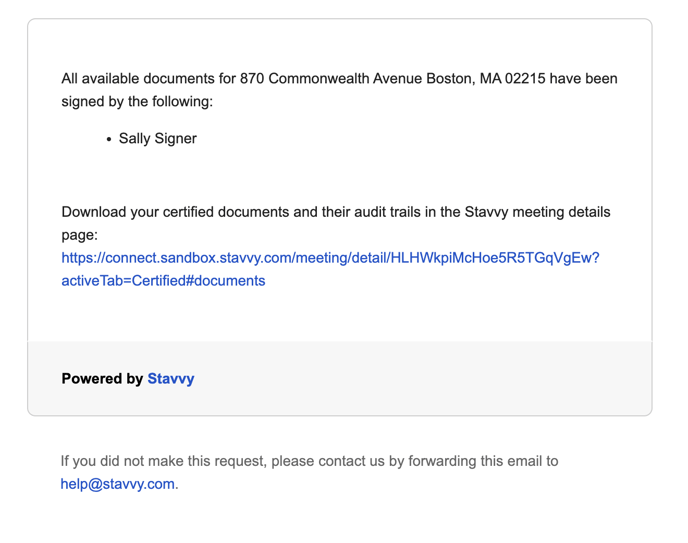 ---
Download All Documents From Files
What was fixed?: The download all button located in the Files documents table was not including Certified documents. This has been corrected to include all documents associated with a file.
Area of the Product: Files
Impacted Users: File Creators, Vendors
Reference Tickets: PRISM-769