As a PrepExpress user with CATIC, you will have the option to complete use eRemits/eSubmits through a 3-rd party vendor called Stavvy. By utilizing Stavvy Pay, you will be able to remit your payments to Catic in a quick and secure manner.
If you are a CATIC agent and you are not signed up for Stavvy Pay, please reach out to your ASR to receive an invitation. From there, you can follow the instructions below to complete your first transaction!
Prior to Your First eSubmit/eRemit Transaction
Call your banker and confirm your IOLTA account information

The name the bank has for the account
The ACH routing number
If the account has a filter/block

If there is a blocker there is a code that can be provided

Request all information in writing for your records
Setting Up Your Account in Stavvy Pay
Stavvy Pay is by invitation only; reach out to your ASR to be invited to the platform. You will receive an invitation via email, click Accept Invite.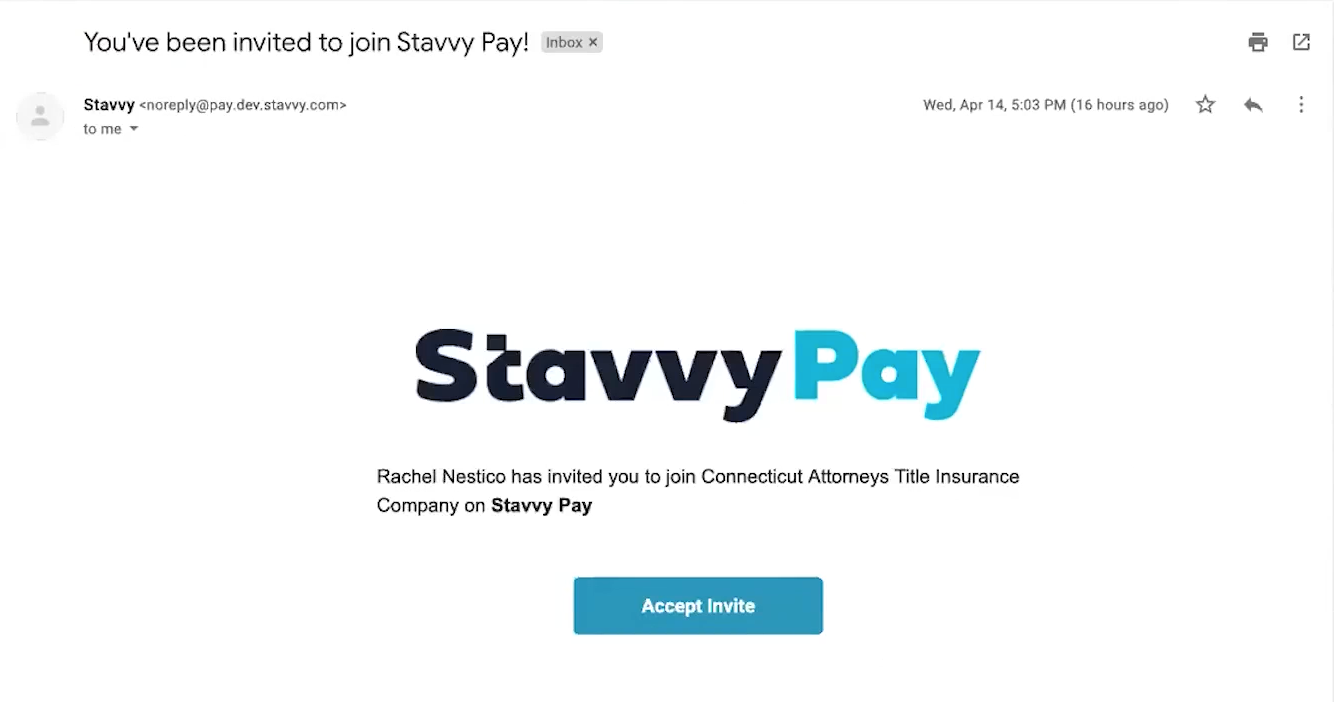 You will be brought to the account setup page- here, you will enter your job title and create a password.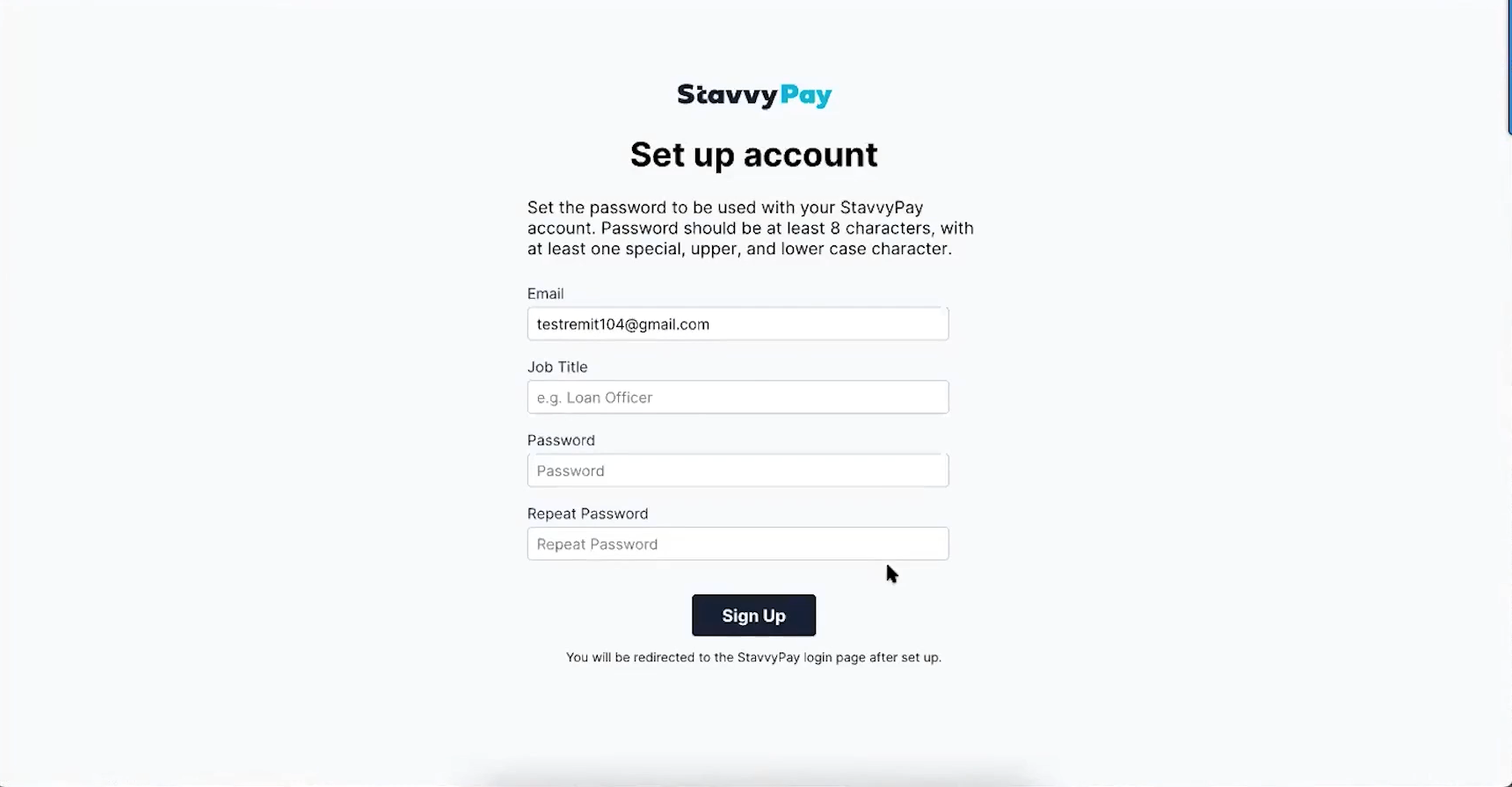 You will then log in using your newly created credentials.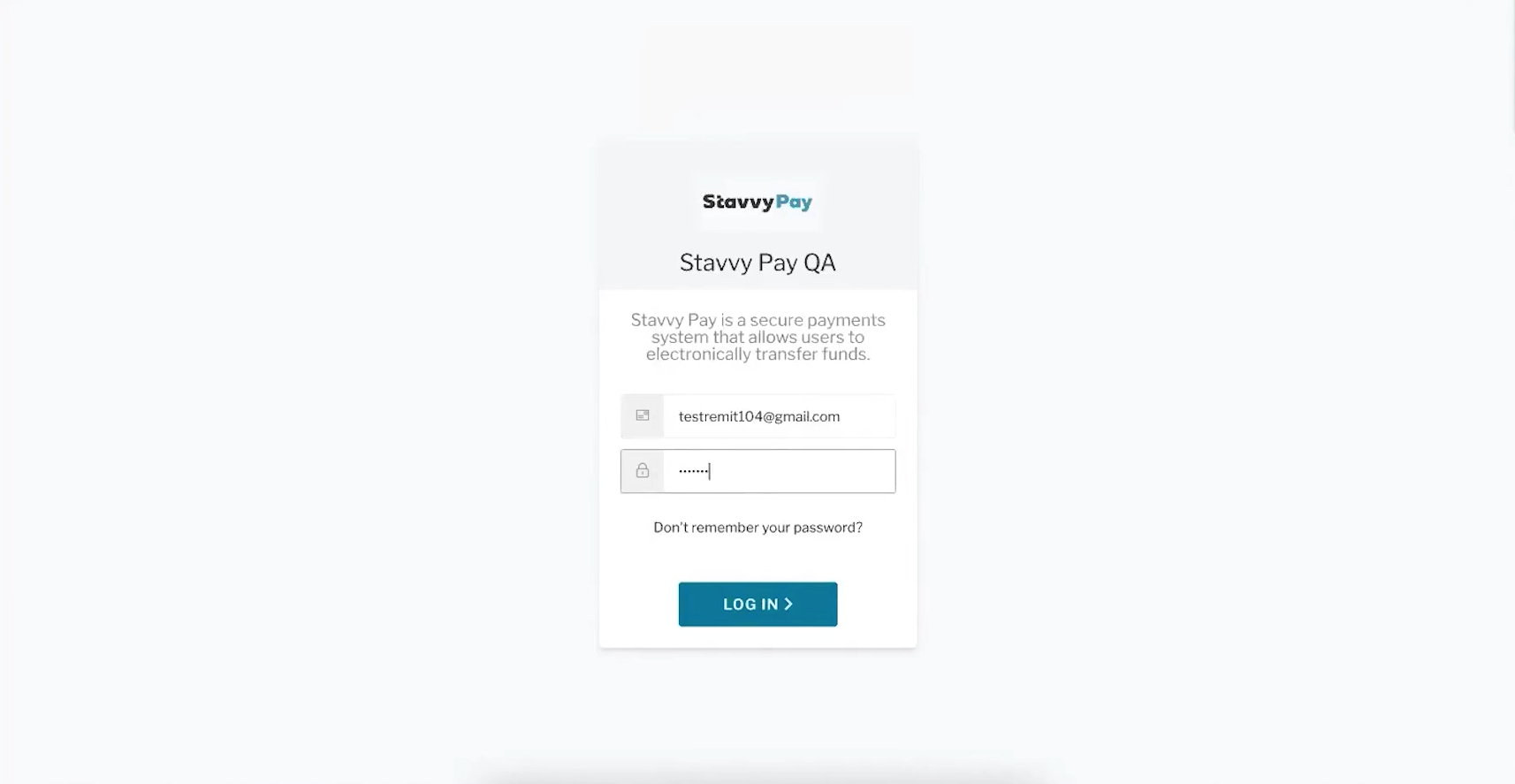 Source Bank Accounts
Upon logging in, you are brought to the Vendor Portal. Click, Add New Account to enter your Source Bank Account information. When entering your Source Bank Accounts, set up all of the IOLTA accounts that you use.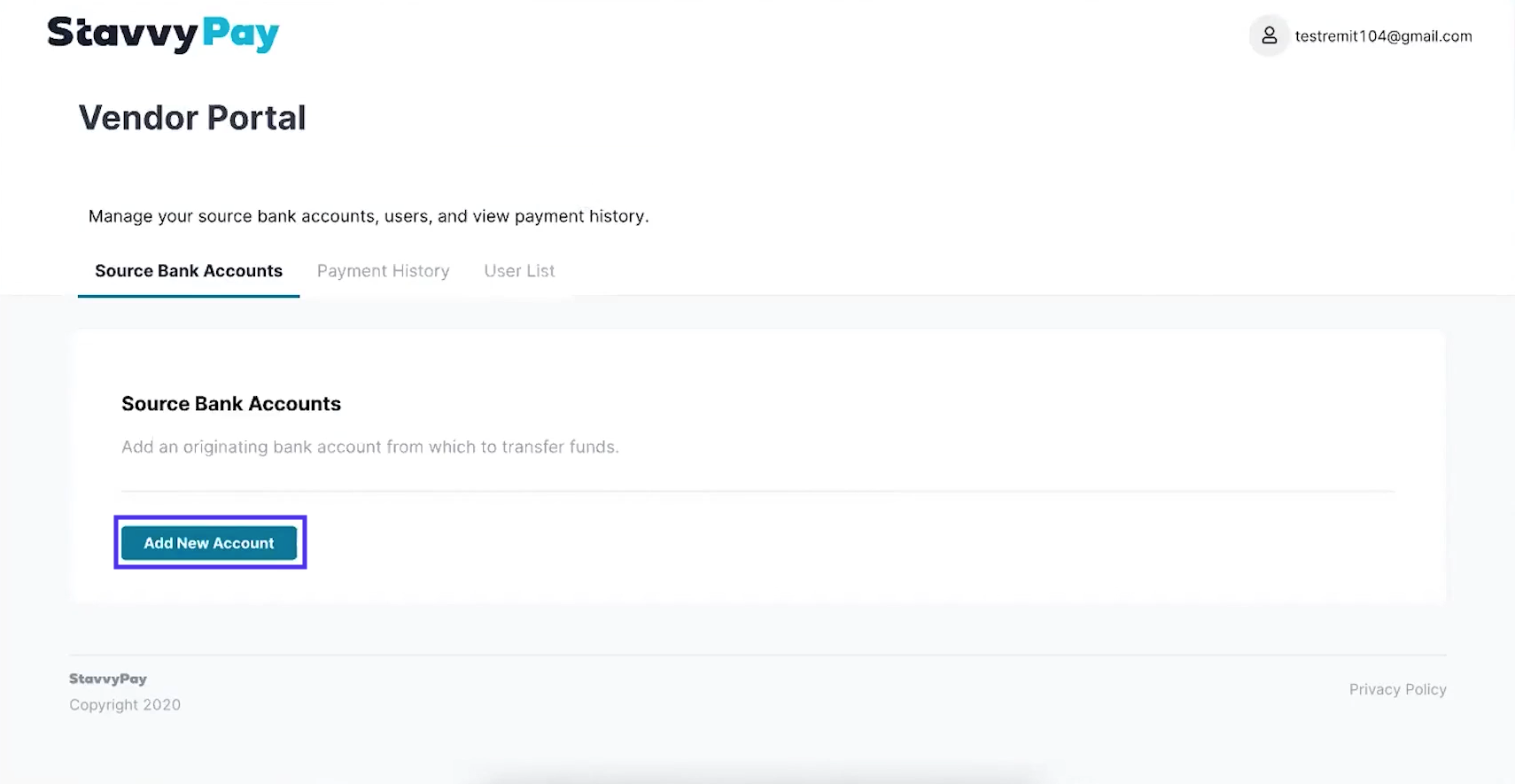 Account Holder

This is the name of the bank account; this should match your checks
It is recommended to request a confirmation letter from your bank to ensure the account number and routing numbers are correct

Account Number
Routing Number
Confirm Account and Routing Numbers
There is no limit on the number of accounts that can be added. Continue adding bank accounts as needed.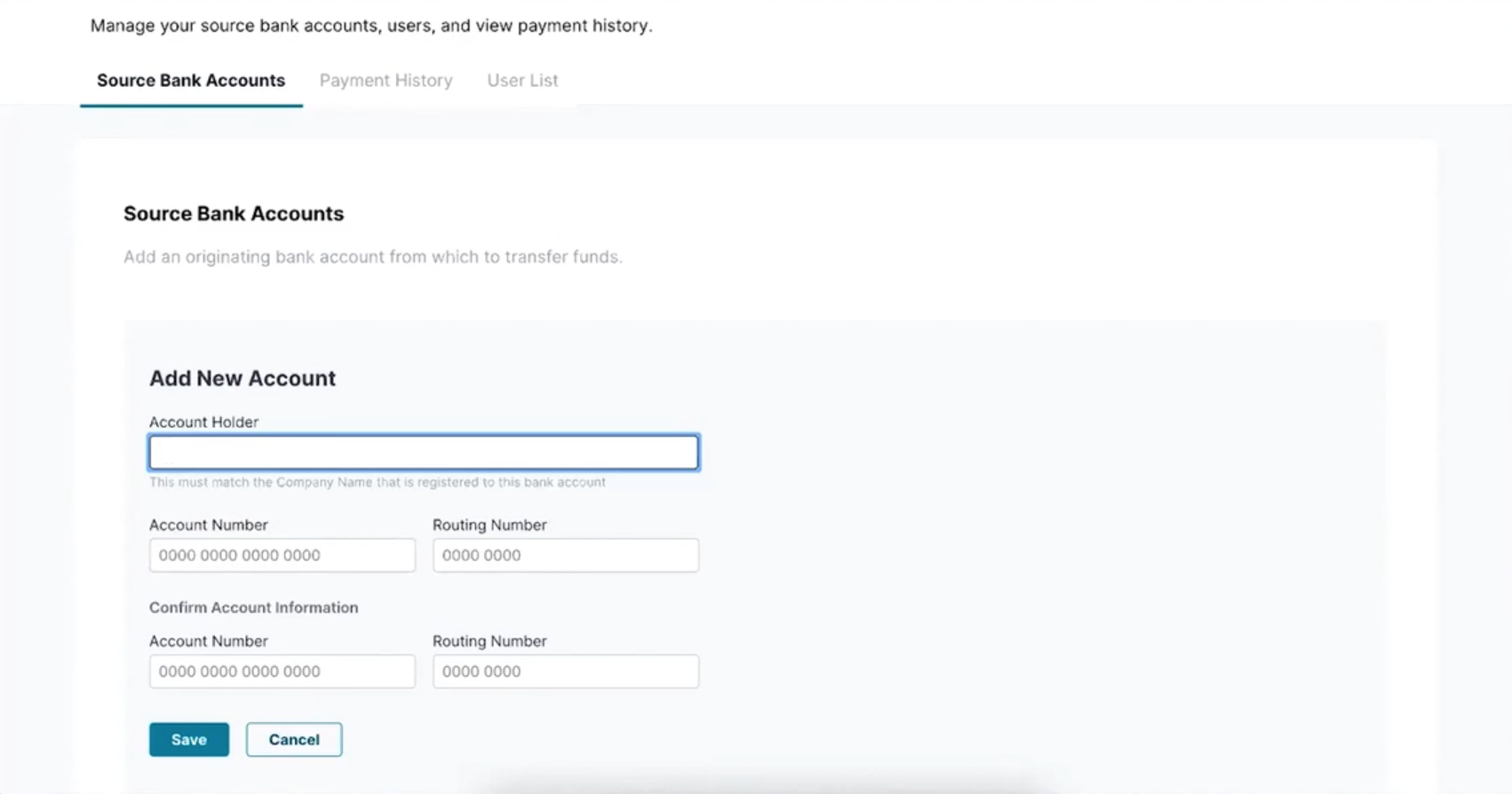 If any of this information is incorrect, you do have the ability to Edit. There is also the option to Set Inactive.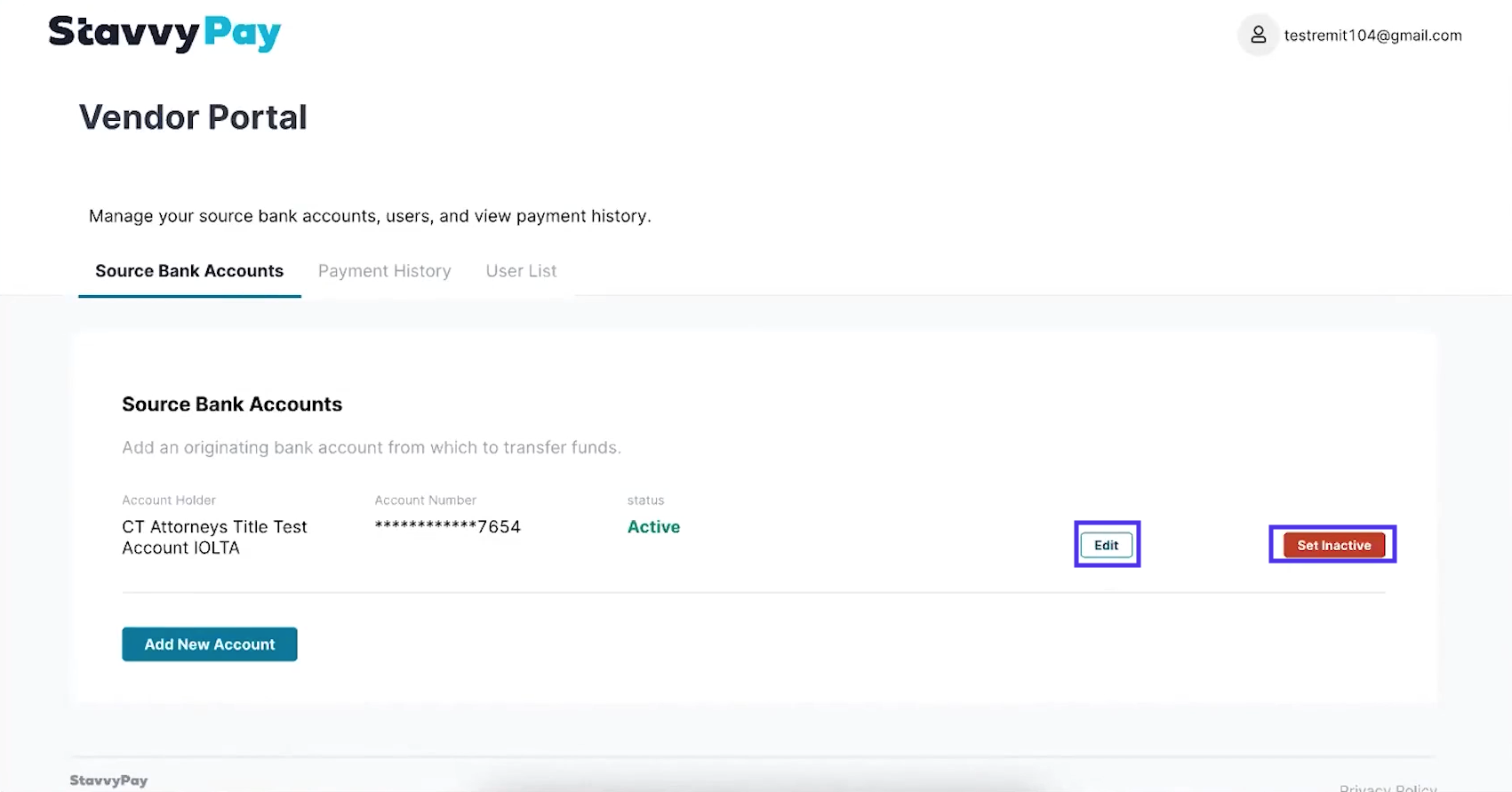 Payment History
Once you begin making payments you are able to see the status in PrepExpress, as well as here in Stavvy Pay.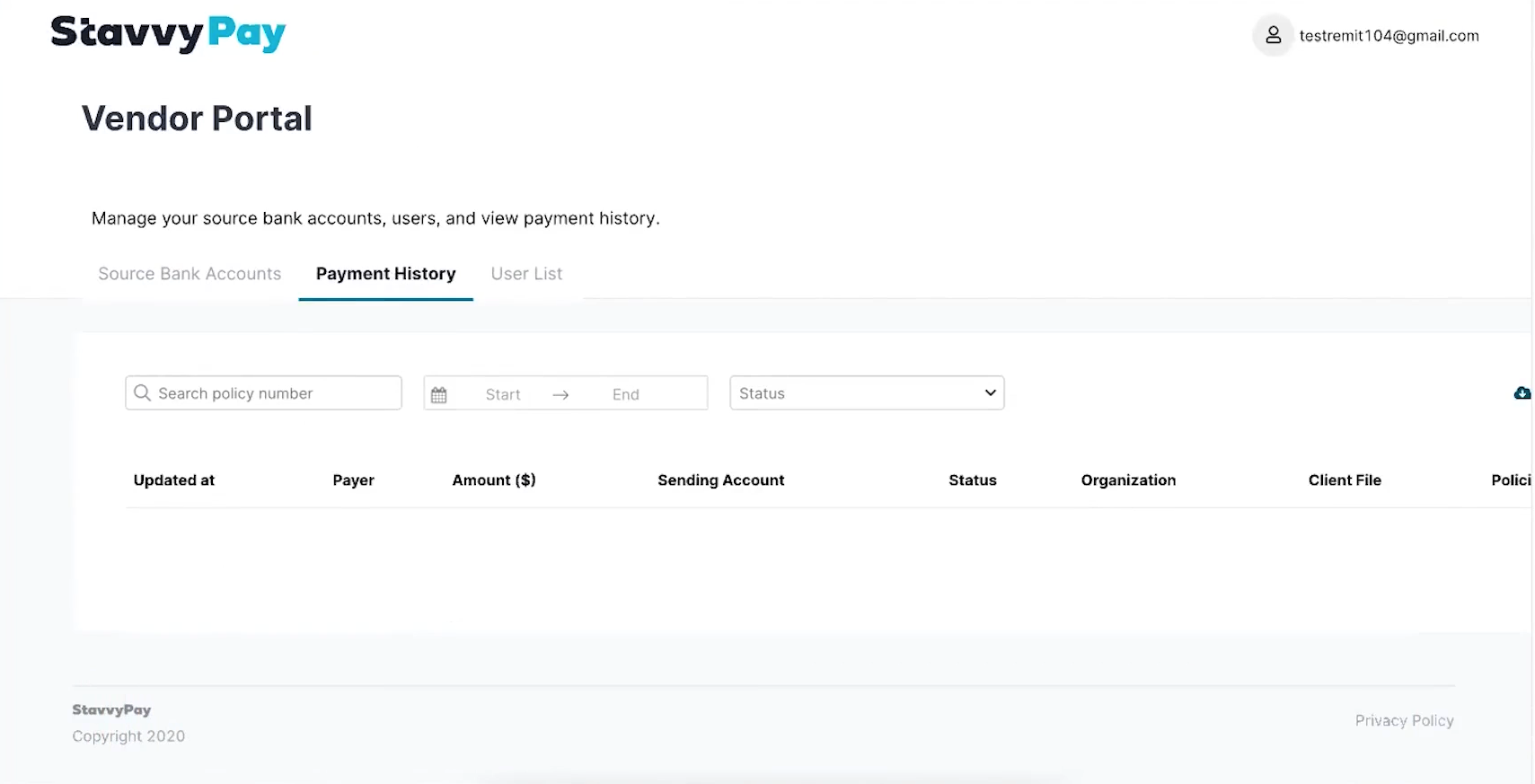 User List
Here you can look at the list of all users associated with the account. Users can be edited or disabled from this page.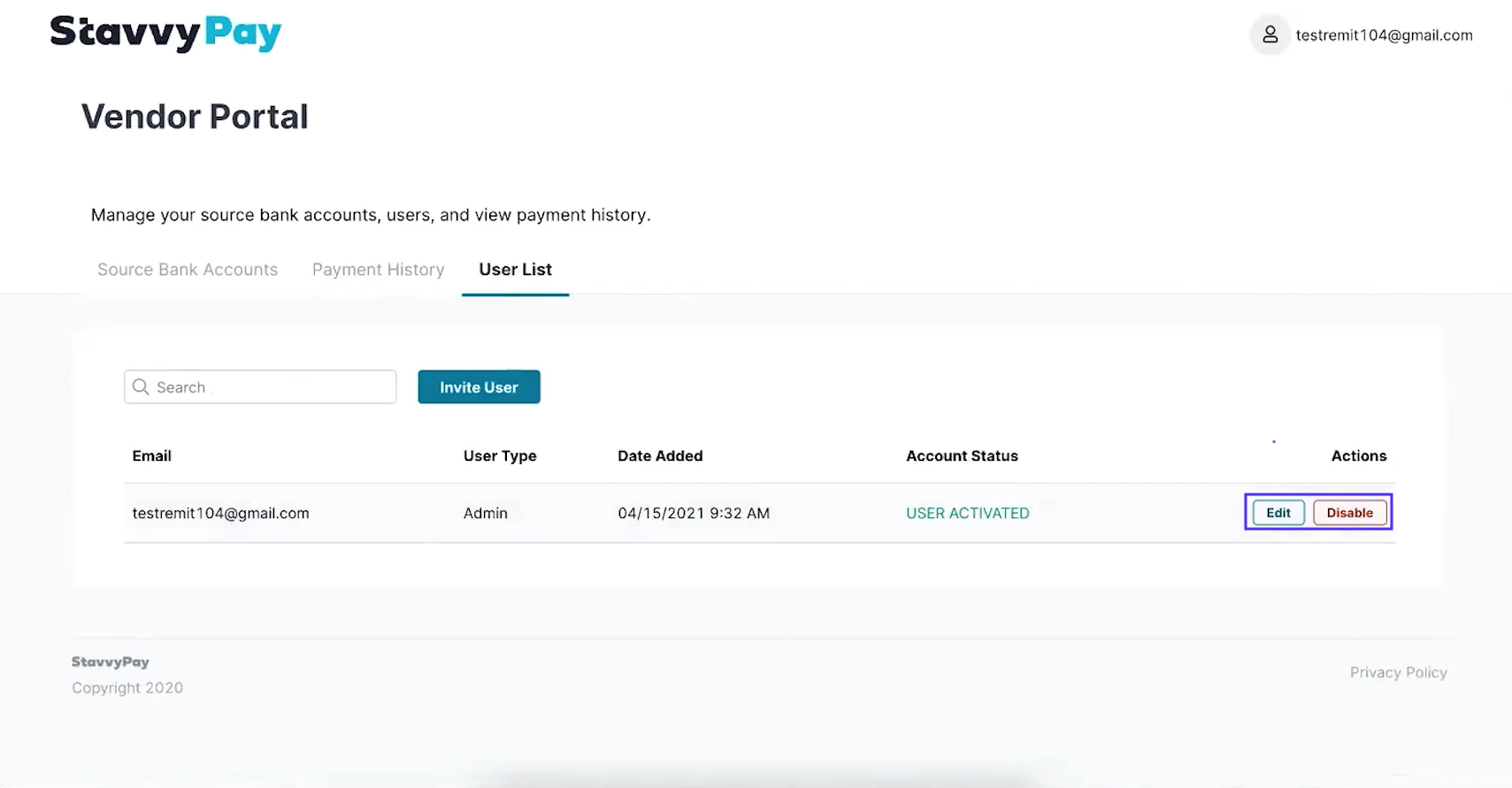 Steps in PrepExpress Online

The e-Remittance process will essentially follow the same flow as when you were sending funds in the mail. Confirm everything has been completed with the policy, jackets pulled, policy completed, recording times entered etc.
Note: ACH Push Transactions are not immediate, they do take time to process after being initiated.
Once the funds have been received by CATIC, the E-Remittance status will update to, "Paid"
Adding Documents to the Package
By selecting Manage Documents from the Actions button you are able to select documents to add to the package by clicking the check box.


Including the Legal Property Description
From here you can also see the Title Search. In the Title Search section, you have the option to have the Legal Property Description added to the package.

By clicking Uploaded, you can also see any uploaded documents. Here, is where you could check off a Legal Description that you uploaded from your computer.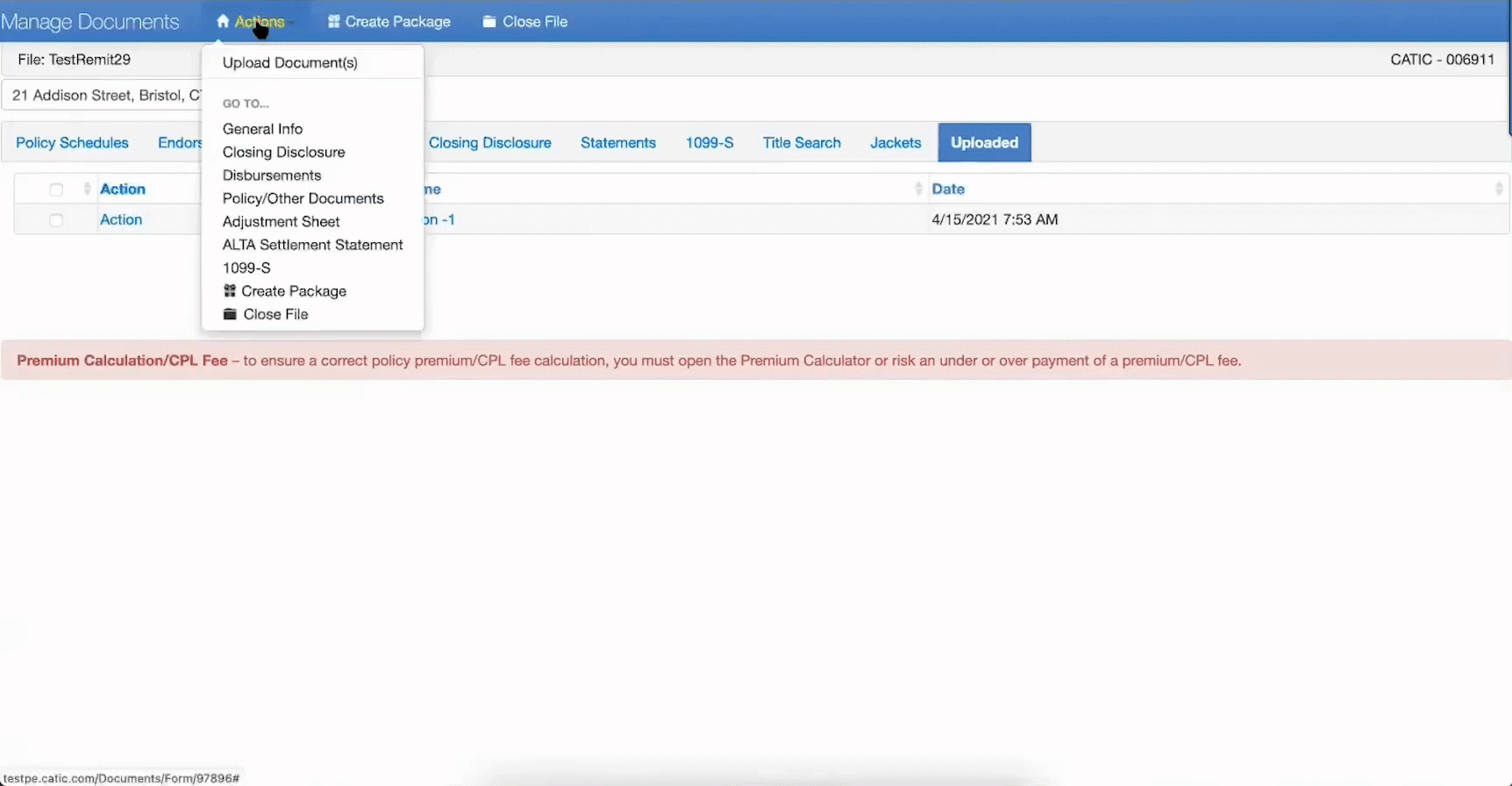 Checking the Policy
Go to the Actions tab and click Policy/Other Documents to check policies for any needed actions. Are the jackets pulled? Do they have all of the needed information? Recording time, amount, expiration etc.

Submitting the Policy and Payment
Once it is ready to submit click E-Submission from the Actions tab.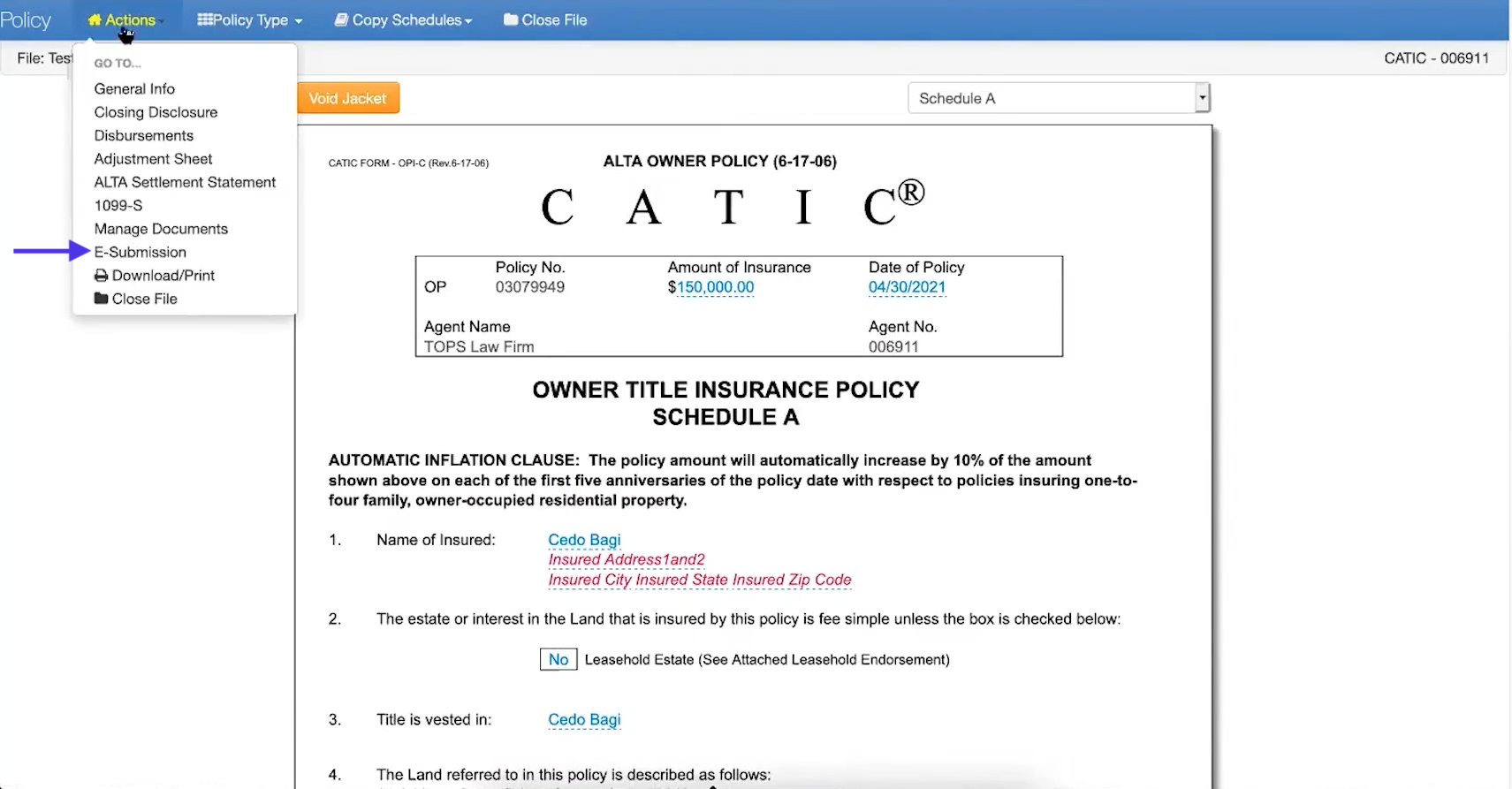 You can also visit the Policy Submission section from the Policy homepage.
Note: Read this information thoroughly.
Click, "Continue to electronic policy submission and payment."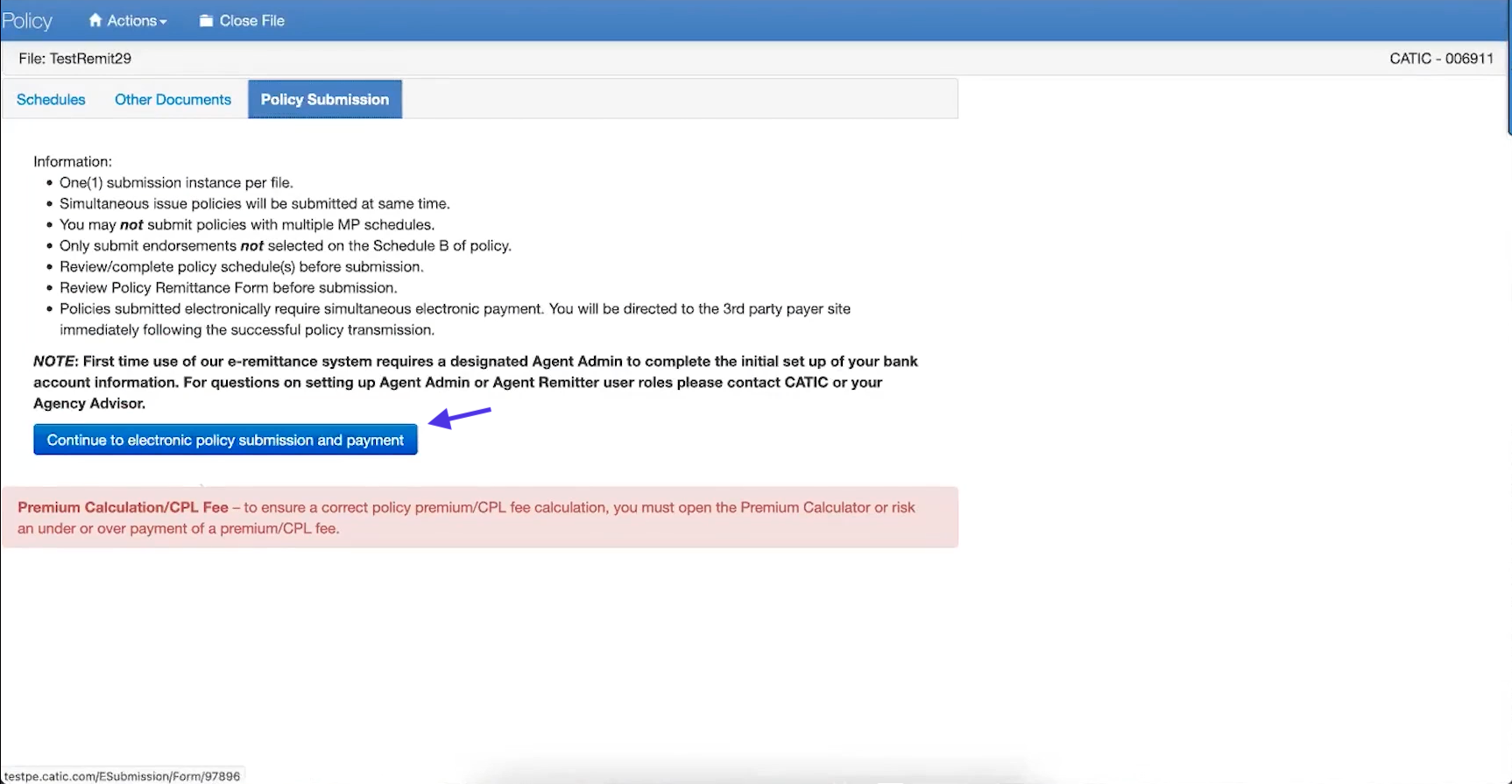 The system will stop you if you haven't added in all of the needed information, so there is no worry if, for example, you have skipped the premium calculator or other items. You will not be able to send an incomplete policy!
If you click on the Policy/Remittance Form- you are able to make changes to fees.
Here you will find:
Manual override buttons- click the M.
Open fields to add additional fees, and to add comments.
You can also enter the name of the person who prepared the form.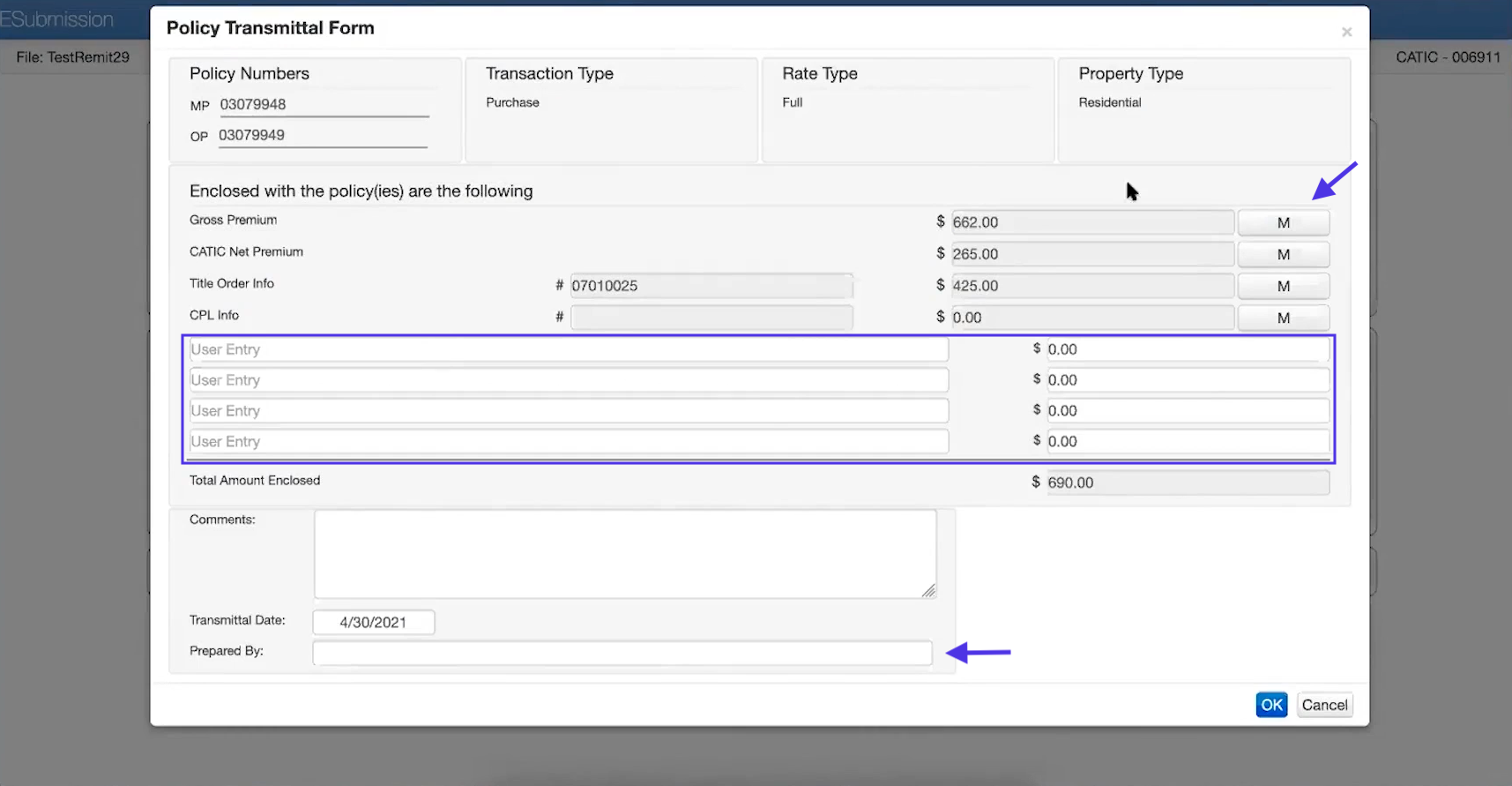 At the bottom, you can click Add Documents to add additional documents- or Preview Documents to view a PDF of the documents in your package.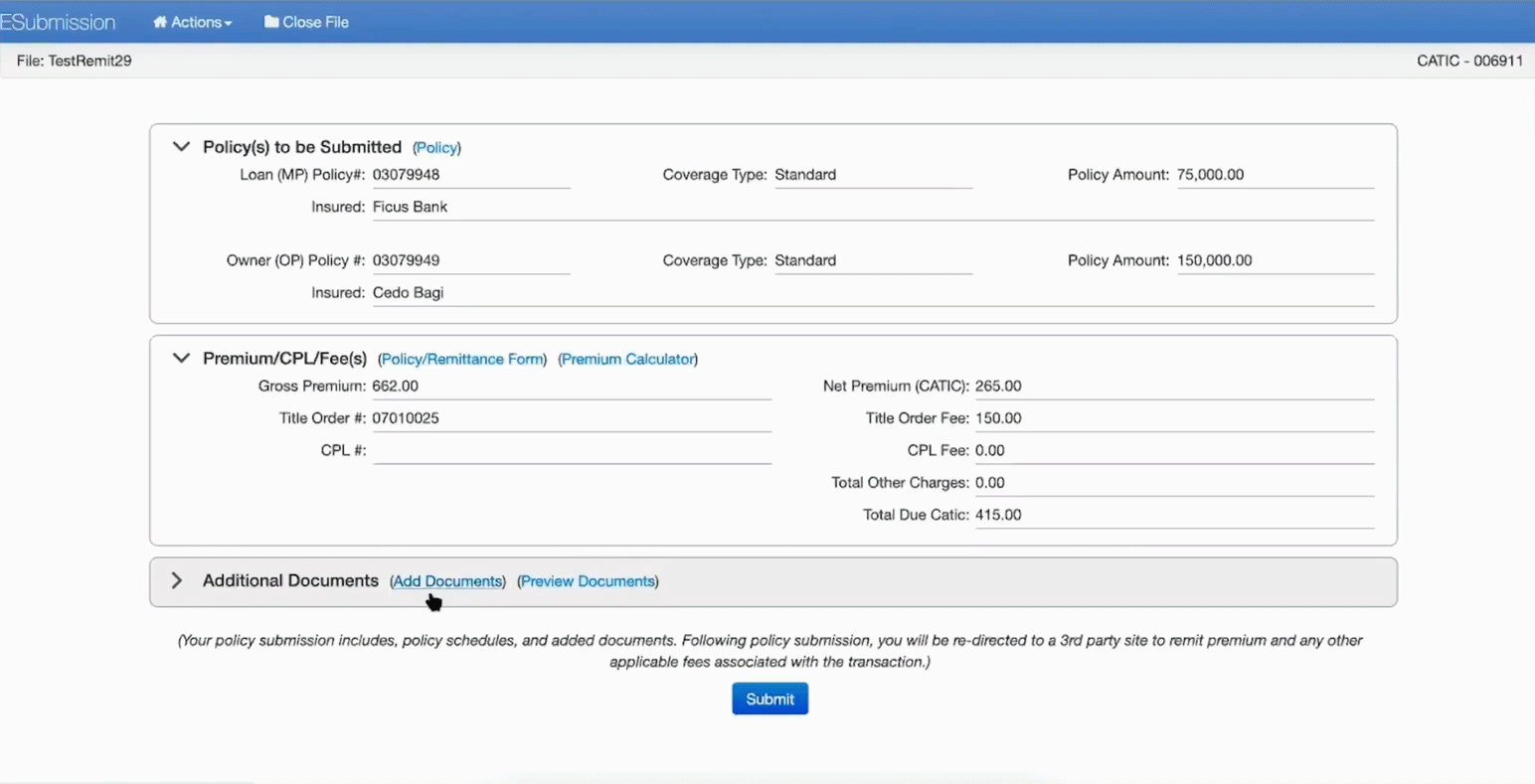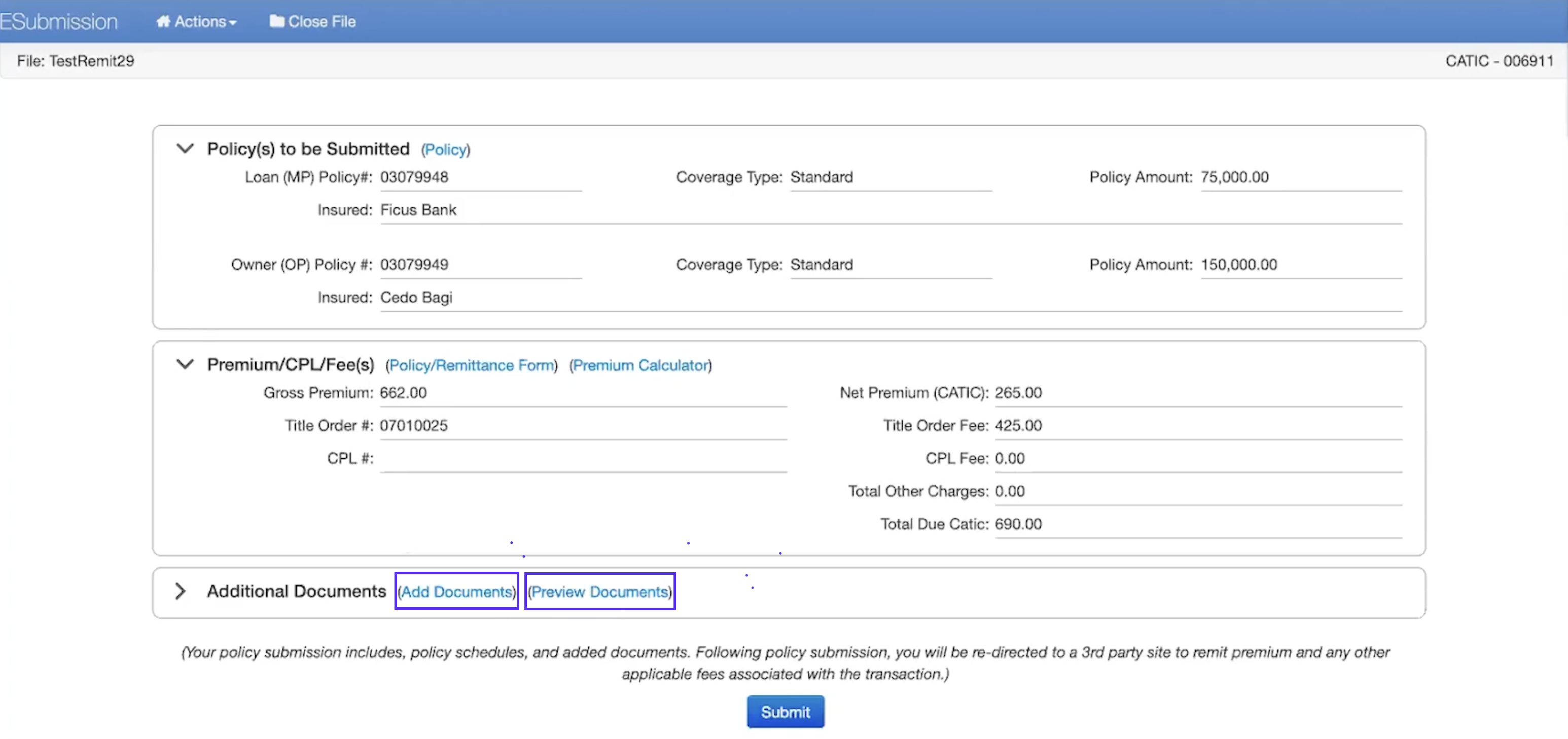 Once you click Submit, you will have one last time to confirm your package is ready. Click, Yes to proceed.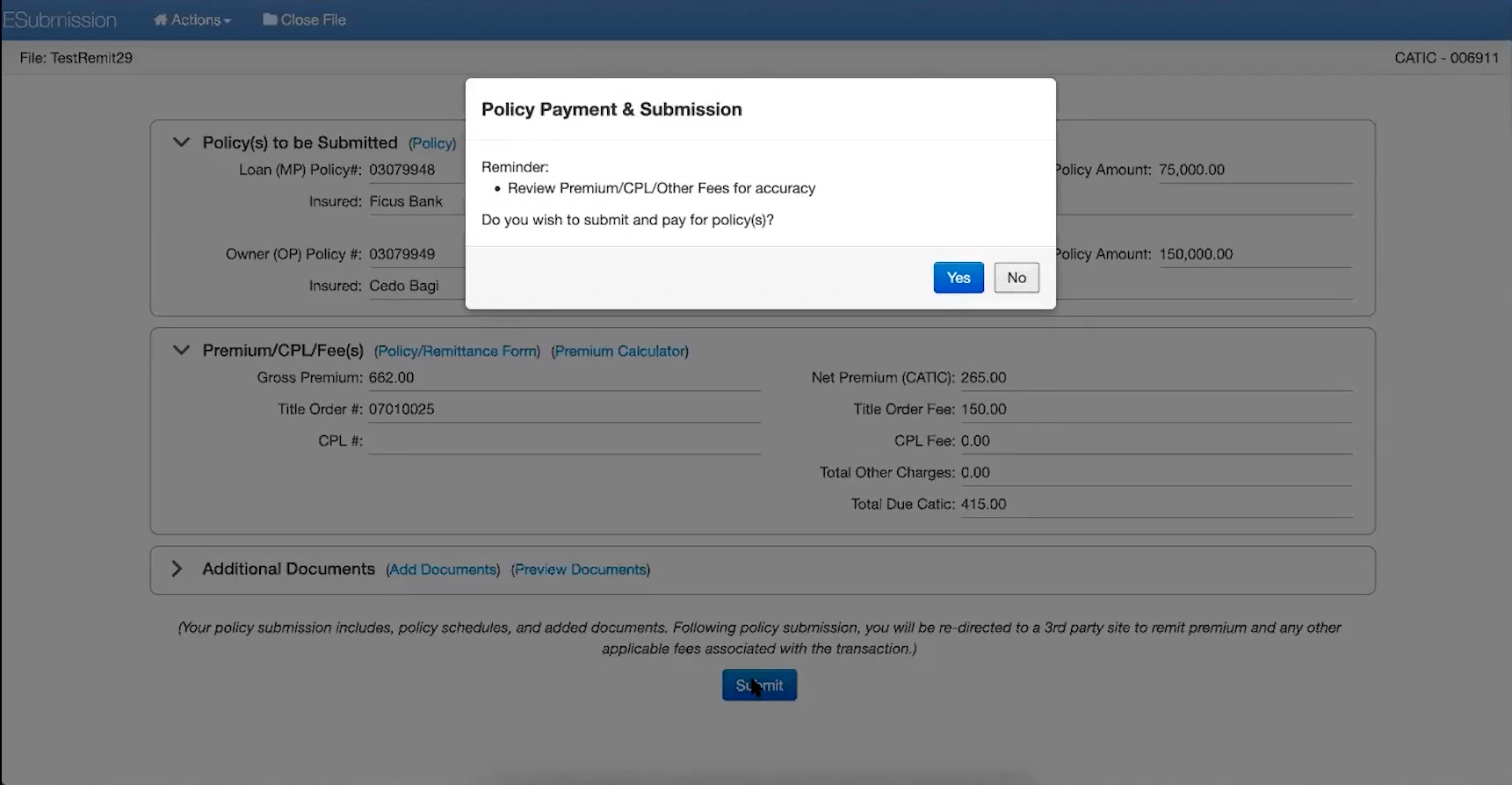 Now, you will be notified that you are heading to the Third-Party site, Stavvy. Click, Continue to Remit Premium.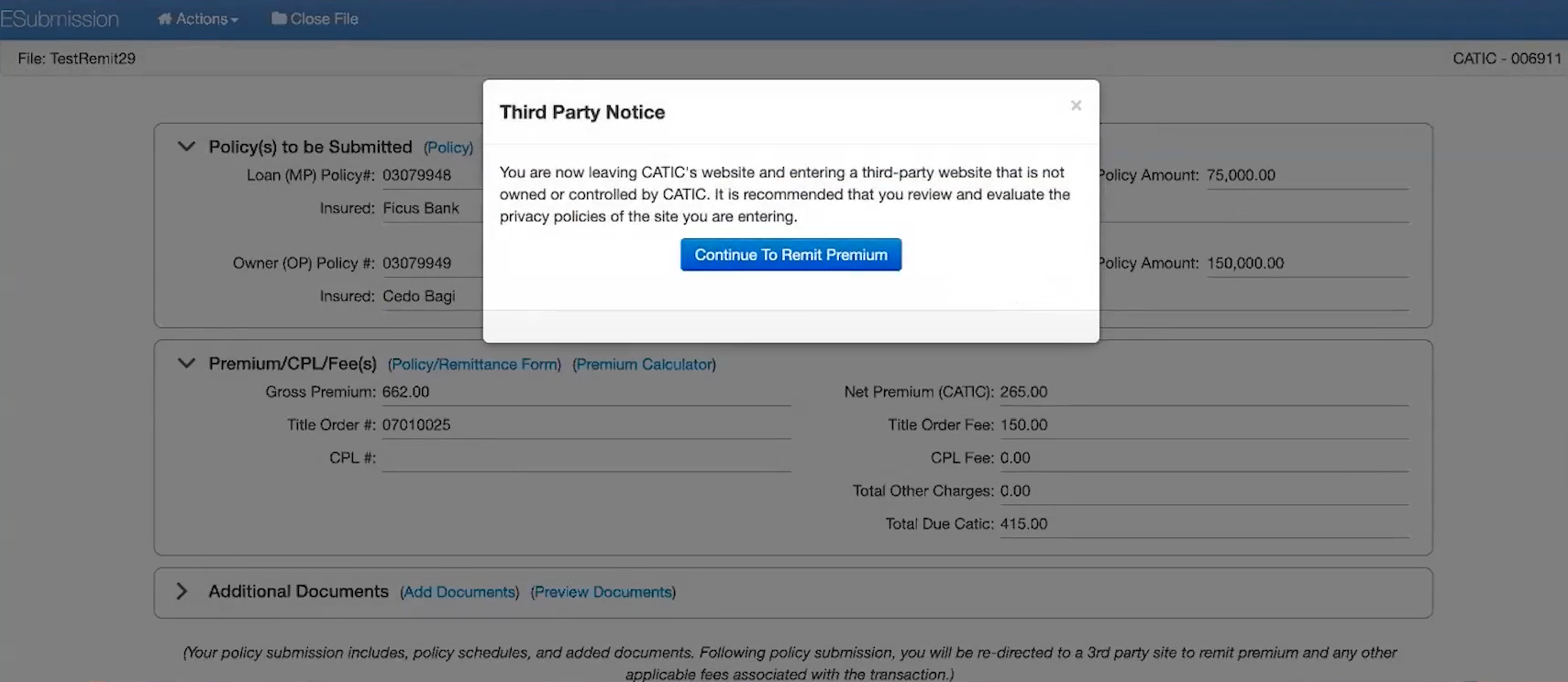 Note: Once the premium has been submitted, you will need to contact CATIC directly should you need to make any changes.
Submitting the Payment in Stavvy Pay
You are brought to the Payment Details page in Stavvy Pay.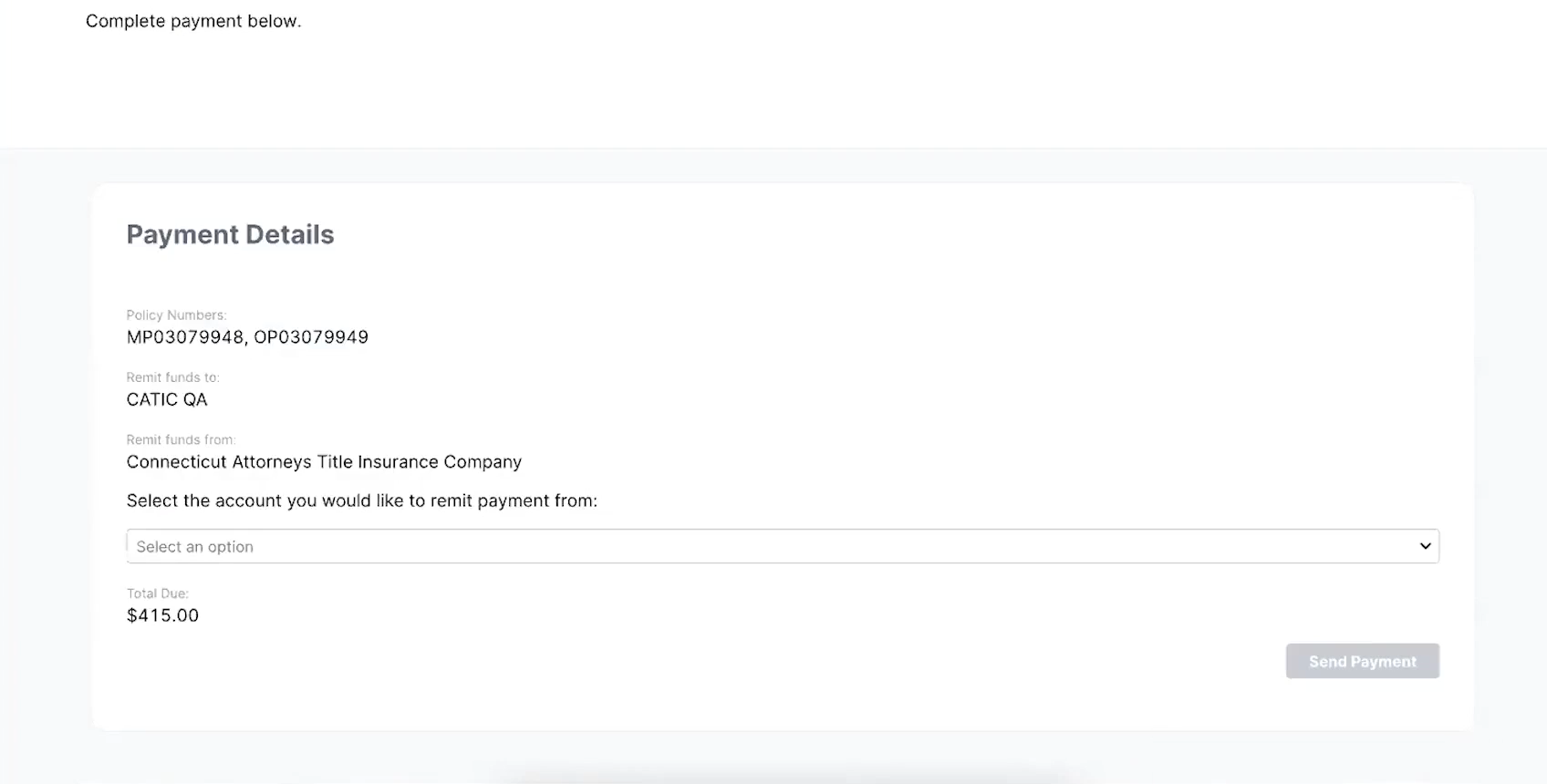 Select which account you would like to remit the payment from.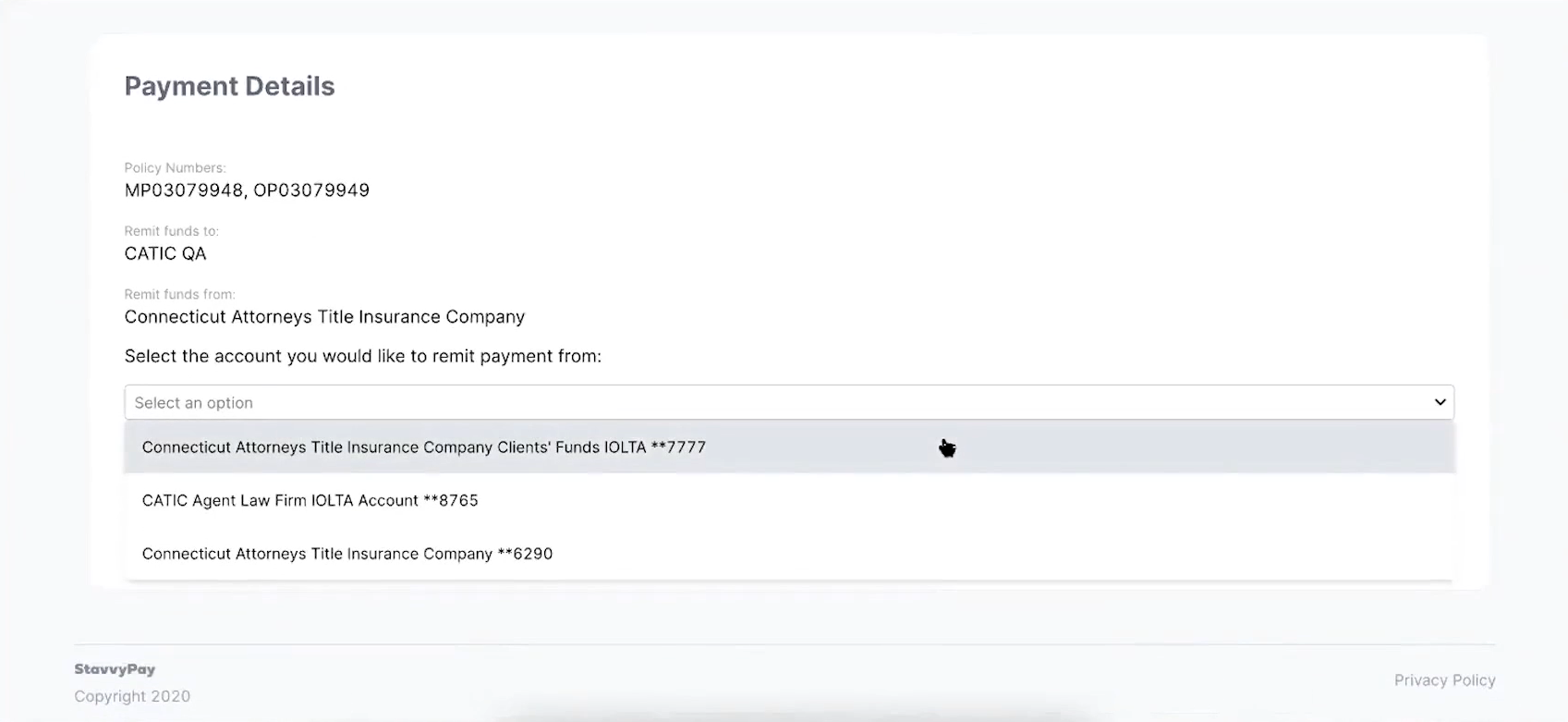 Confirm the information below is correct prior to submitting:
Policy numbers being submitted
Funds being remitted to CATIC
IOLTA account used to push payment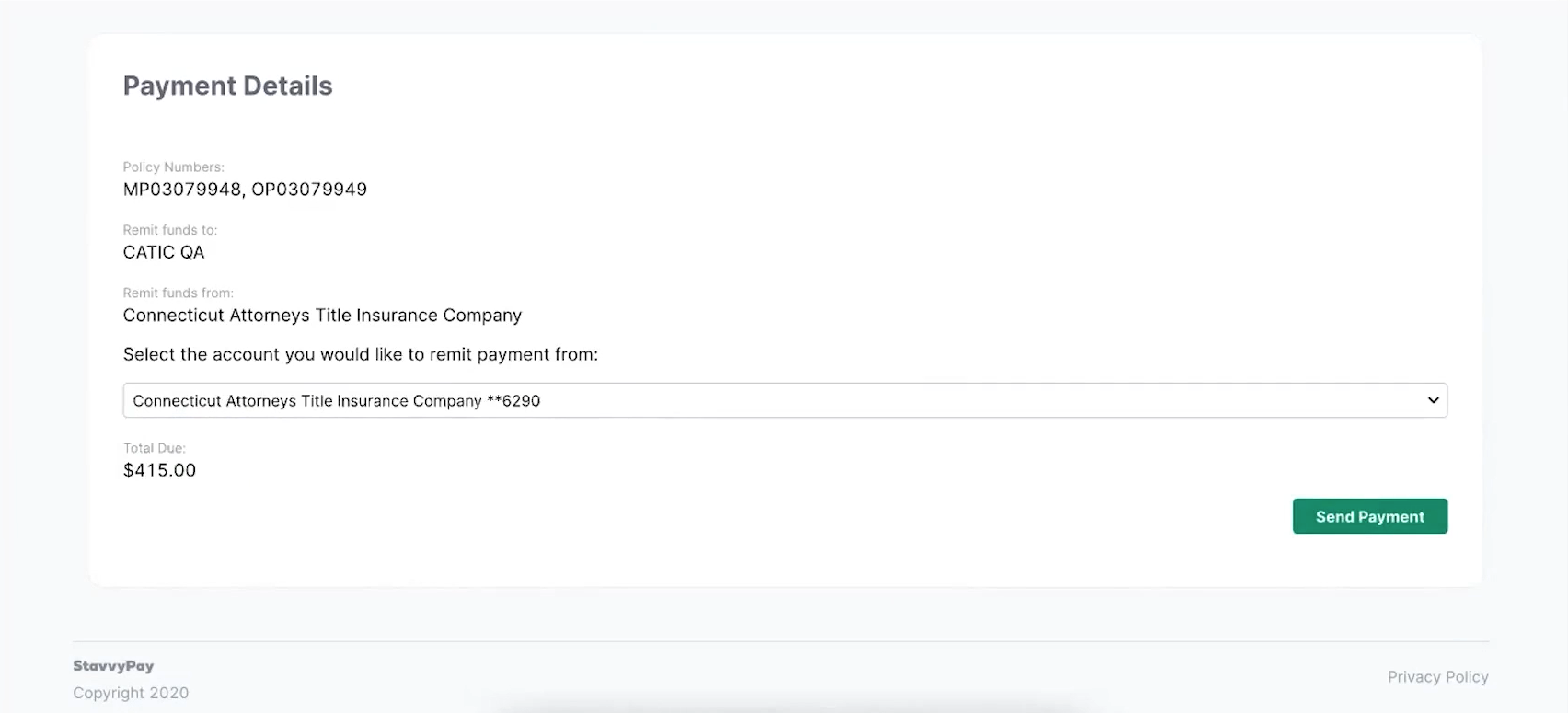 Click Send Payment. The payment confirmation window will appear for you to confirm accuracy.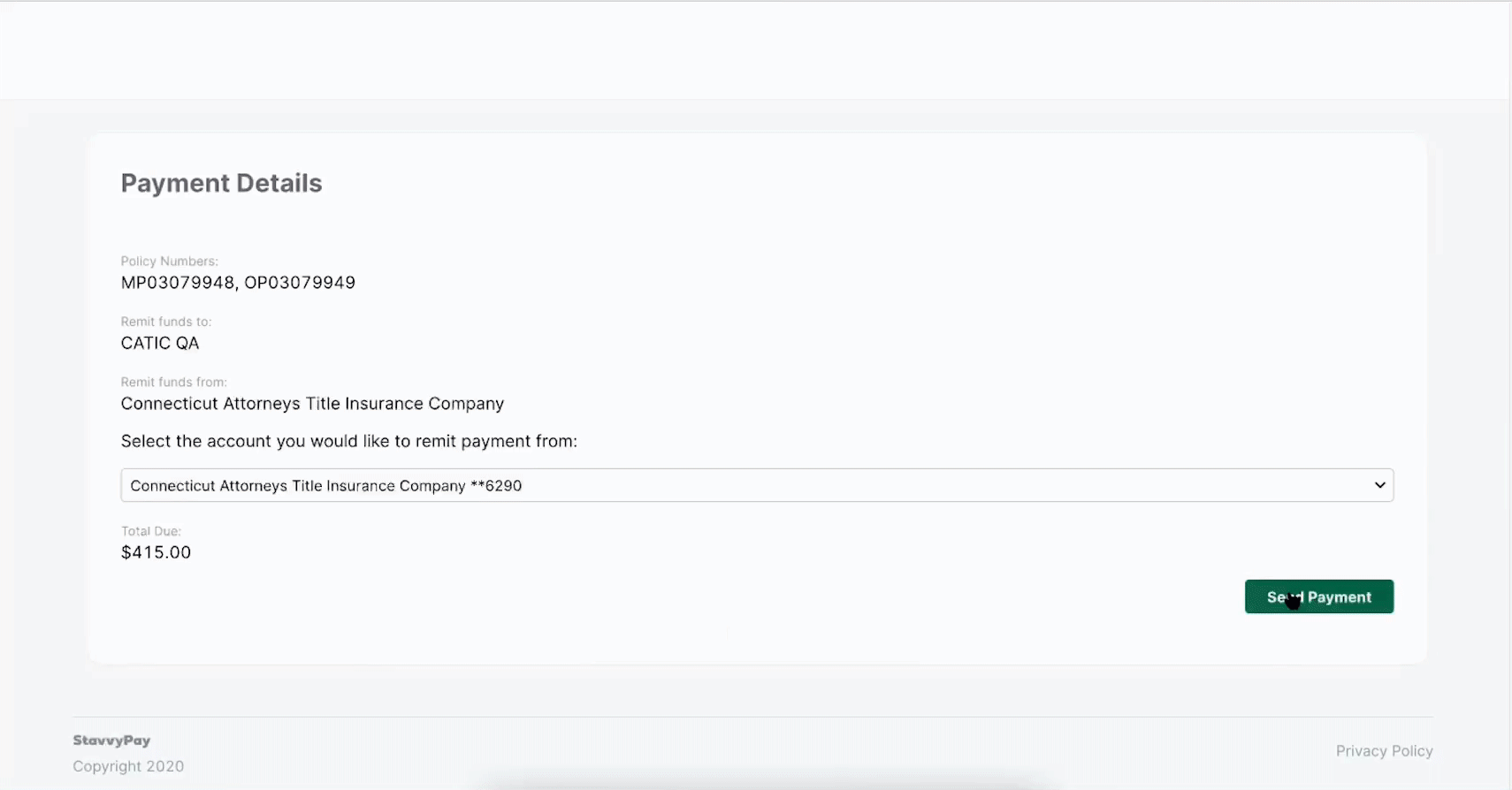 Click on the check box to agree to Stavvy Payment Terms. See terms below.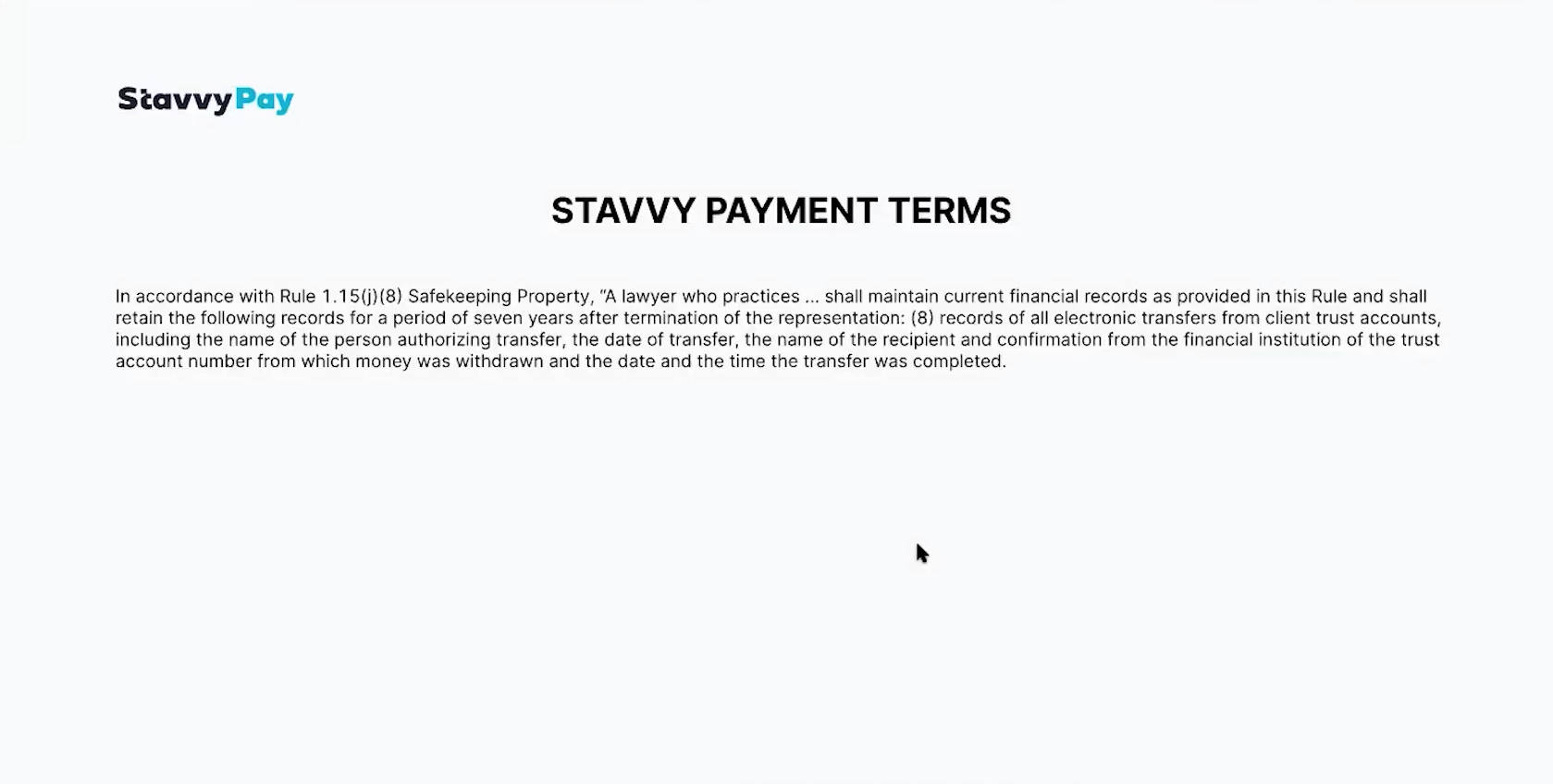 Upon clicking, Send Payment again, you will be brought to the page below.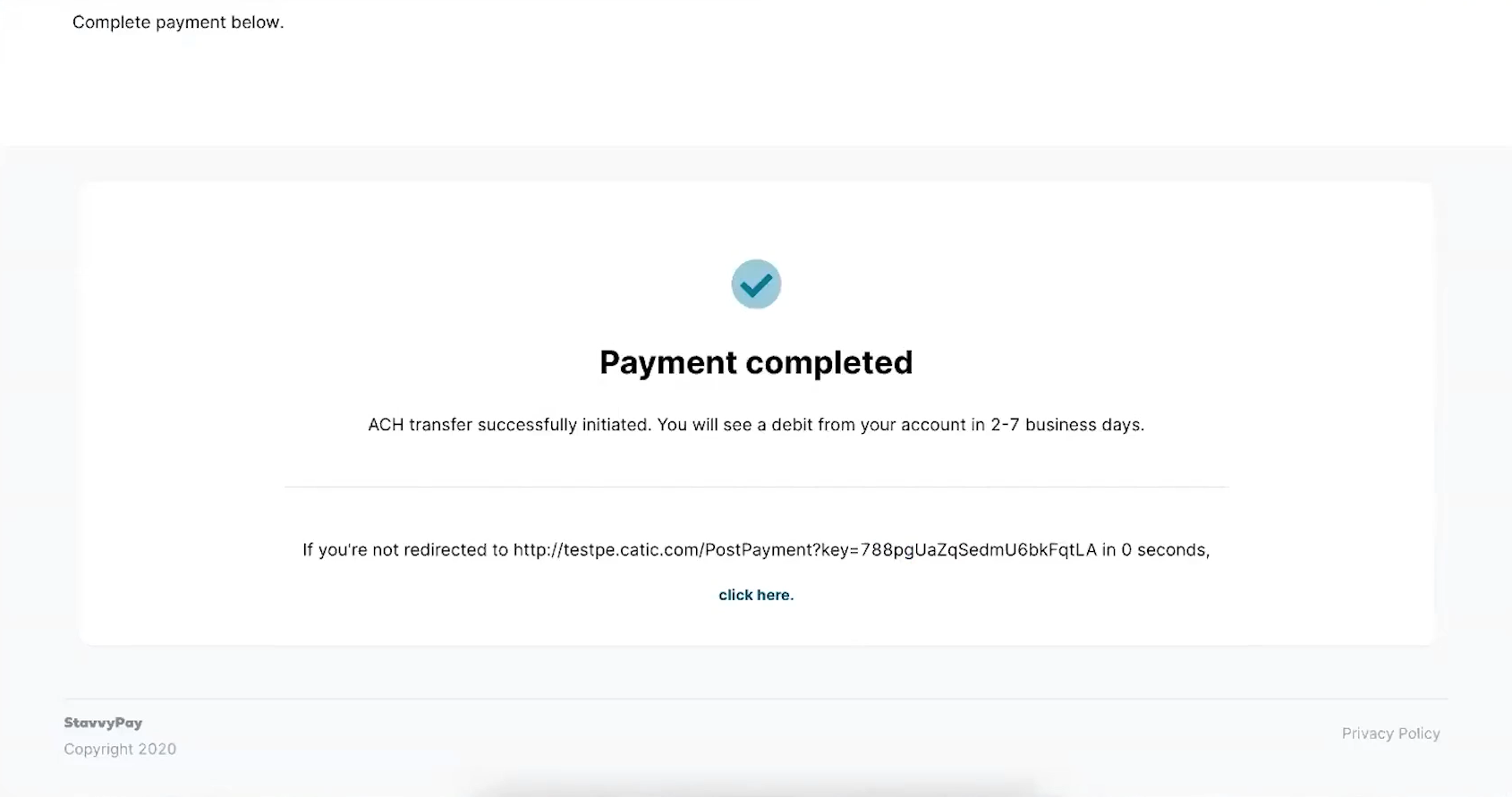 You are then brought back to CATIC. See below.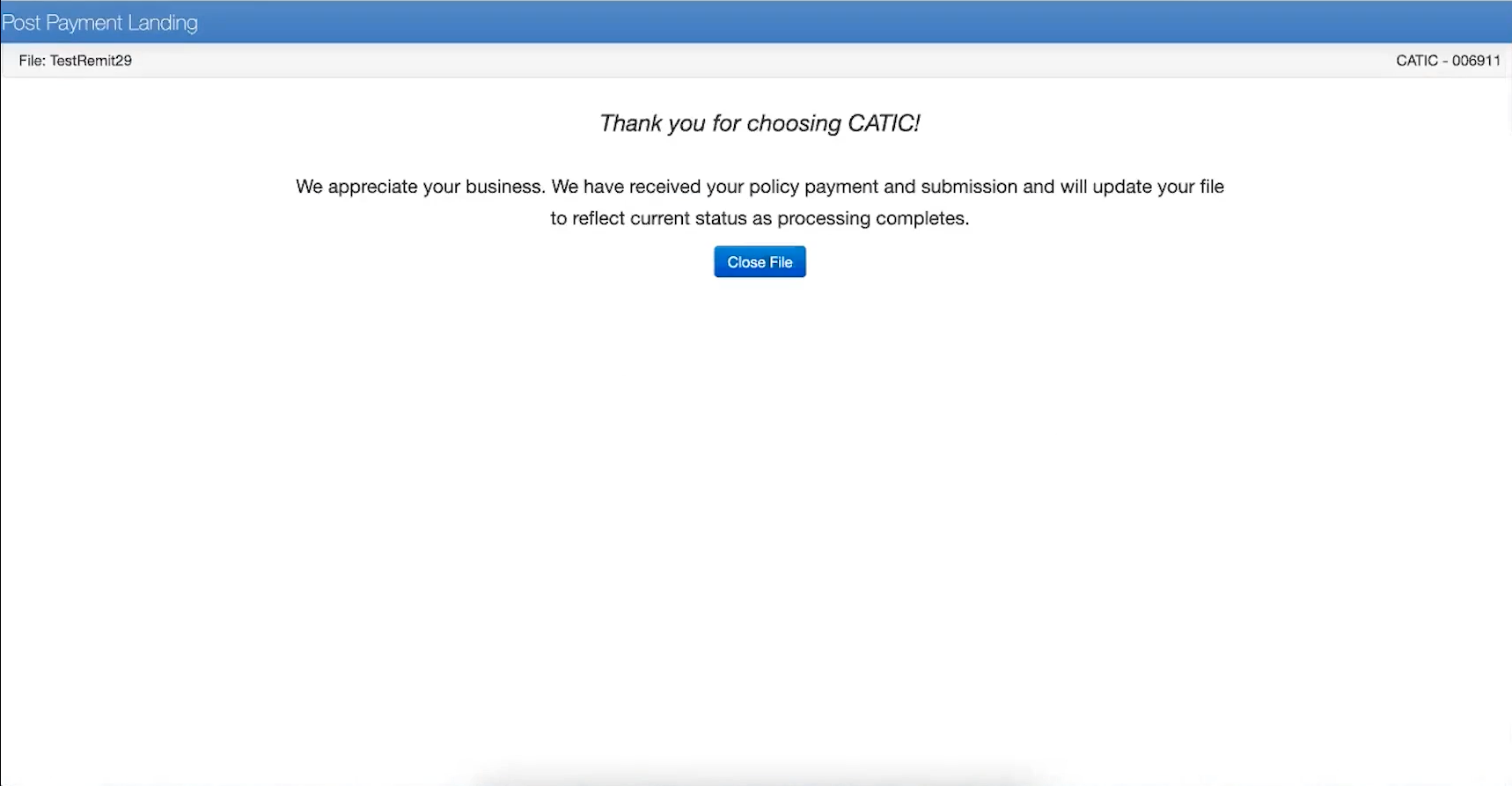 Once everything has been processed the E-Remittance Status will update to Paid and the E-Submission Status will update to Submitted. If there is an error and the payment was not successfully processed, statuses will be Unpaid and Incomplete.
If you have any additional questions please reach out to support@stavvy.com!