Stavvy is committed to helping real estate & financial institutions that handle sensitive data maintain a secure digital environment. In order to ensure that you experience uninterrupted access to our services, we would like to provide you with important information regarding whitelisting intended for your webmaster or network administrator
Whitelisting is a fundamental security practice that allows you to create a list of trusted entities, such as IP addresses and domains, which are granted explicit permission to access specific resources or services. By whitelisting these trusted entities, you enhance your organization's security posture by actively controlling and restricting access to only approved sources.
Stavvy Domains / IP Addresses to Whitelist
We recommend whitelisting Stavvy's wildcard domain, *.stavvy.com, in any security measures used such as a network firewall, VPN, or Web proxy. This wildcard domain covers the subdomains used in our web application and allows access to our internal API. Because our subdomains are subject to change over time, using the wildcard domain will ensure that you do not have to make whitelisting updates as we introduce new subdomains. Examples of our current subdomains are:
"connect.stavvy.com"

"login.stavvy.com"

"api.connect.stavvy.com"

"status.stavvy.com"
Partner Domains / IP Addresses to Whitelist
Twilio: Stavvy video streams are powered by Twilio, a trusted global communications provider that provides low-latency access via regional data centers. Stavvy utilizes Global Low-Latency (GLL) routing, which ensures the best quality by connecting users to the nearest regional data center. The locations of these data centers as of Friday, June 2, 2023 are shown below: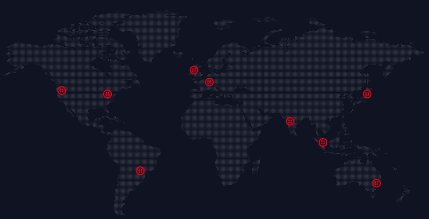 Stavvy is a US-based company that serves banking, lending, and real estate customers with US-based corporate networks. As such, we recommend whitelisting the US data centers, whose IP addresses, hostnames, and ports are included below:
US East Coast
34.203.254.0/24 (34.203.254.0 - 34.203.254.255)

54.172.60.0/23 (54.172.60.0 - 54.172.61.255)

34.203.250.0/23 (34.203.250.0 - 34.203.251.255)

3.235.111.128/25 (3.235.111.128 - 3.235.111.255)
US West Coast
34.216.110.128/27 (34.216.110.128 - 34.216.110.159)

54.244.51.0/24 (54.244.51.0 - 54.244.51.255)

44.234.69.0/25 (44.234.69.0 - 44.234.69.127)
Host Name
Port and Protocol
*Effective October 1st 2023* Universal Twilio IP Range
Video Diagnostics
Stavvy provides a dedicated audio, video, and internet testing experience that meeting participants can use before joining a video session. You can access that experience here.
If you are experiencing issues with the meeting session and/or are using a protected corporate network, the Twilio Video Diagnostics Application provides lower-level testing capabilities of participants' device and software setup, connectivity with the Twilio Cloud, and network performance. This test can be used to provide meeting participants feedback about their network quality and device setup and also includes recommendations for improving their video call quality.
If you continue to have audio or video issues when accessing Stavvy meetings, please contact support at support@stavvy.com.