Find out about our latest product updates. In this release we're introducing document signing types, lots of document related UX updates, and a way to cancel documents.
Date: March 21, 2023
Release Contents
Product Enhancements

Improved Document Actions: Rename, View Versions
Identifying Notarized Documents
Remove KBA from Notary Profile
Filter to "My Packets" in eSign

Bug Fixes

---
📝 Document Signing Types
Summary: We've added the concept of document signing types (eSign, Wet Sign, and Read Only). Signing types allow documents to be managed based on the way they will be executed. There are different actions available for documents based on their signing type.
Helpful Hints: A document's signing type indicates how it will be signed or executed. It does not indicate what kind of annotations a document contains. Signing types are set upon document upload, but can be changed using the documents action menu.
You can see a document's signing type in any documents table

Seeing a document with a type of Unknown? Don't worry - you can change the type or proceed with adding annotations to it as usual. It won't impact your ability to prepare or sign your document. You may see a few documents with this type as we roll out this feature.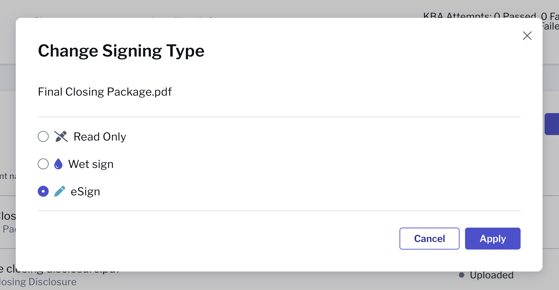 Wet sign documents can be marked as signed. This will result in a status of Wet Signed, a completed status for wet sign documents. Wet sign documents do not go through a certification process.

To mark a wet sign document as signed, click the "Mark as Signed" action in the action menu.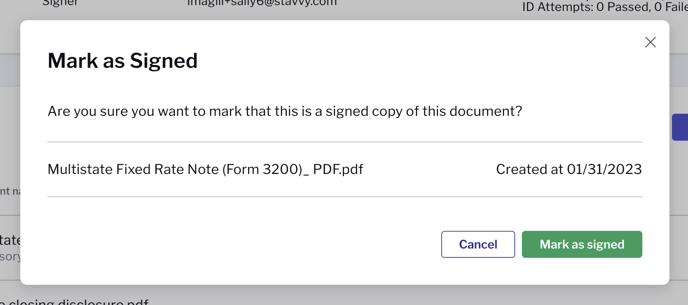 Learn more at: help.stavvy.com/document-upload
---
📥 Document Upload, Action Menu, and Filtering Updates
Summary: Uploading a document or interacting with the action menu in Stavvy is similar to how it always has been, but we've standardized the experience across meetings, eSign packets, and files. We've also added a way to filter document lists.
Helpful Hints: Upon upload, you must select a signing type for a document. All PDF documents will default to esign, but they can be changed. All non-PDF documents will default to read only and can not be changed.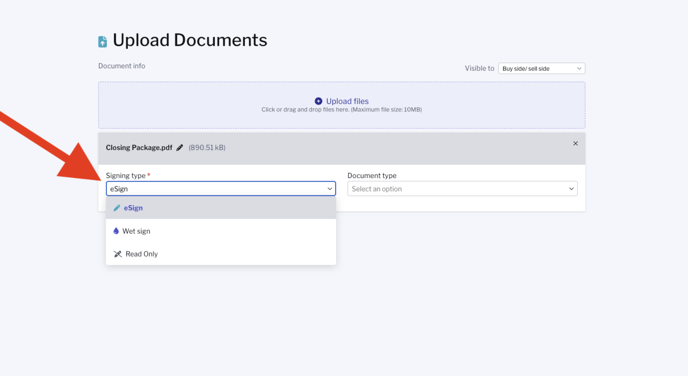 There is now an option to select document type upon upload. This field is not required except in files.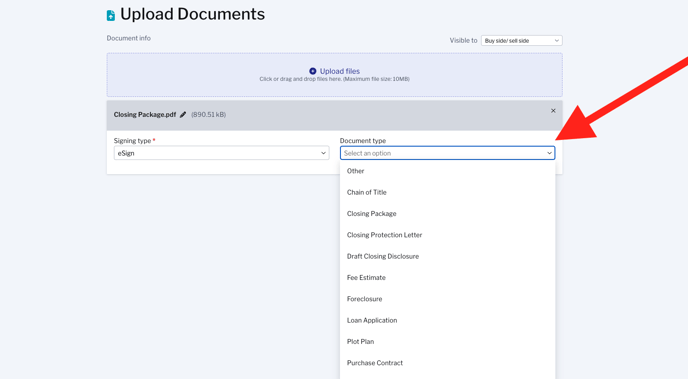 Selecting a document type of other will allow you to enter a custom description for the document. This will display in the documents table.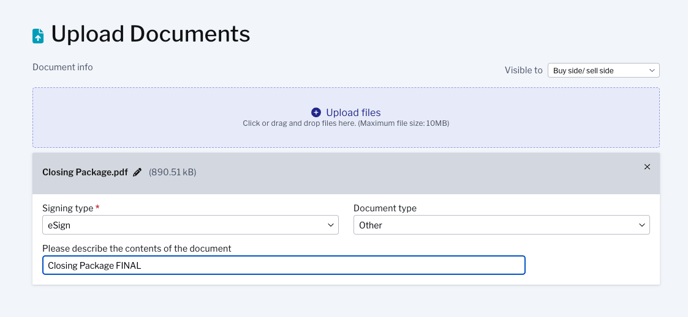 To access any document action, click on the ellipse menu at the far right of each document in the documents table.

You can now filter the documents table by signing type, document type, or status. You can also sort on every column in the documents table.

---
❌ Cancel Document
Summary: You can now cancel documents. Canceling a document is a terminal state for a document and it can not be undone. Canceling should be used for documents that have mistakes or are no longer needed to complete the transaction. Canceled documents will not display to signers in the meeting or eSign experience.
Helpful Hints: To cancel a document, click on the cancel action in the action menu.

When you select cancel, you will be prompted to confirm the action. This will change the document status to canceled.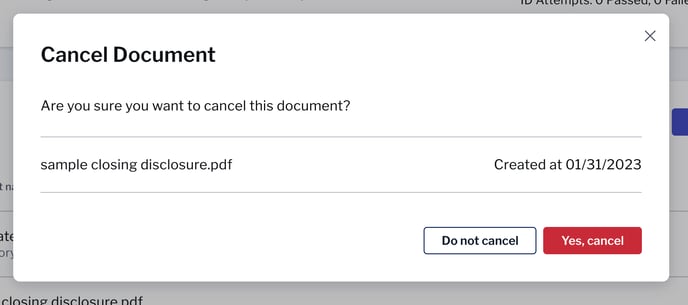 A document with a status of Canceled can only be Viewed or Downloaded. Documents with a status of Wet Signed or Certified can not be Canceled.

---
Product Enhancements
Check this section for minor feature updates and improvements we've made to Stavvy!
Improved Document Actions: Rename, View Versions
What changed?: We've made small changes to existing document actions. You can now access the rename and view versions actions from the document action menu. View Versions is only available for file documents.
Area of the Product: Meetings, eSign, Files
Impacted Users: Any user that uploads or manages documents
Rename
The rename function has moved to the action menu. To rename a document, click "Rename" in the action menu.

Type to edit the document name.

View Versions
Version history in files has moved to the action menu. To view a previous version of a document, click "View Versions".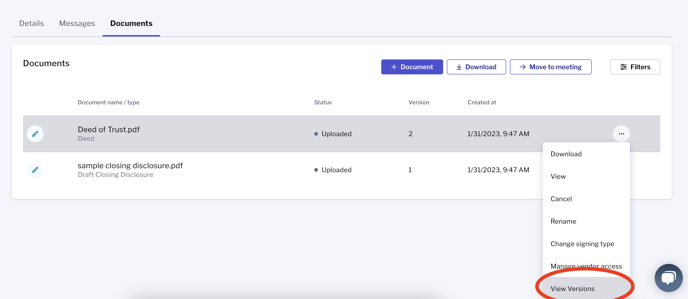 A modal will appear with a history of previous document versions. Click the ellipse menu to view or download previous versions of a document.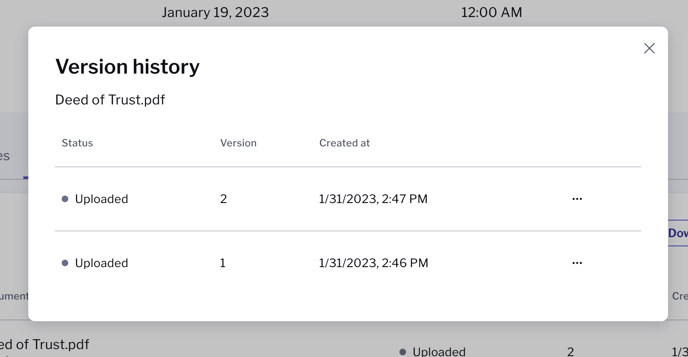 ---
Identifying Notarized Documents
What changed?: Documents that contain notary annotations will display a notary stamp next to their name, indicating that a notary is required to sign the document. This will only appear once notary annotations have been applied to the document. This replaces the tabs that previously separated eSign documents from eSign with notary documents in meetings.
Area of the Product: Meetings
Impacted Users: Notaries, Meeting Creators

---
Remove KBA From Notary Profile
What changed?: We've removed KBA as a step in Notary profile creation. It was previously the step listed after ID Card. We removed it because is not a legal requirement for creating an approved Notary Profile in Stavvy.
Area of the Product: Notary Profile
Impacted Users: Notaries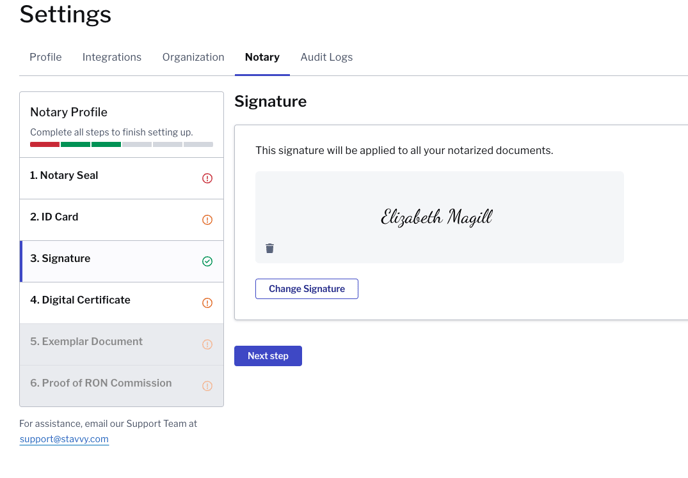 ---
Filter to My Packets in eSign
What changed?: The "created by" filter on the esign packet page now defaults to display esign packets created by the logged-in user. You can still use the filter to add additional team members and see their esign packets.
Area of the Product: eSign
Impacted Users: eSign Packet Creators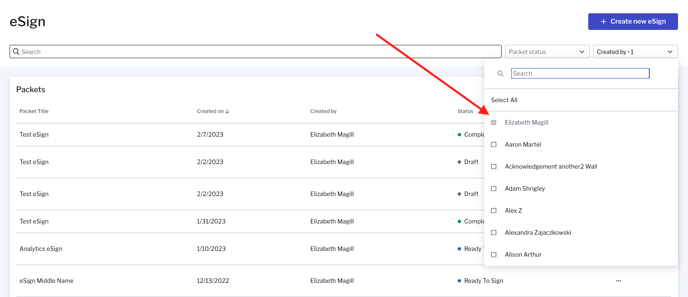 ---
Bug Fixes
Whoops - our bad! Here's the latest list of bugs we've squashed.

Observer Users eConsent

What was fixed?: Observer meeting attendees were being prompted to accept an eConsent agreement. Only signer and notary participants will be prompted to accept our eConsent agreement.
Area of the Product: Meetings
Impacted Users: Observers