Follow this Guide to learn Stavvy in its entirety. Look out for any linked topics to learn more!
LOGGING IN
Receive Welcome Email to Stavvy from an admin of your account

Verify email address & setup login credentials. See instructions here

Login URL: https://connect.stavvy.com/
Technical Requirements for using Stavvy: here
Home Screen: Meetings


Upcoming meetings show by default, but you are able to switch to Completed or Cancelled meetings as well
Search Bar (Search Stavvy Meetings by signer name, property address, or file/loan number)
Filter on the right by which Notary's meetings you would like to see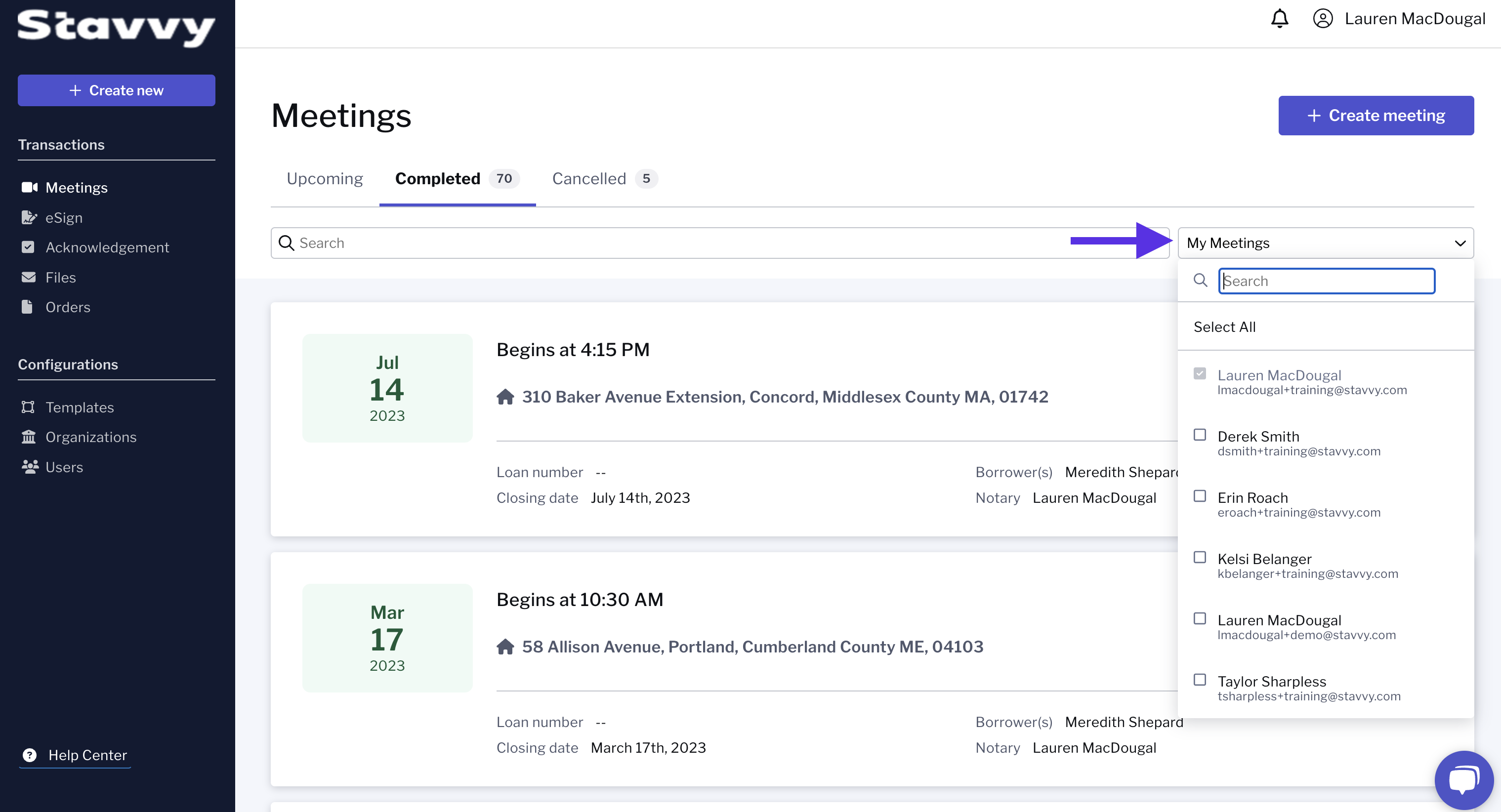 Watch Demonstration Below:
---
TOP RIGHT OF SCREEN
Notification Center (Bell icon, sends notifications related to Files/Orders)
Profile Settings (Top right, your name. Click here for information on Profile Settings)
---
LEFT COLUMN PANEL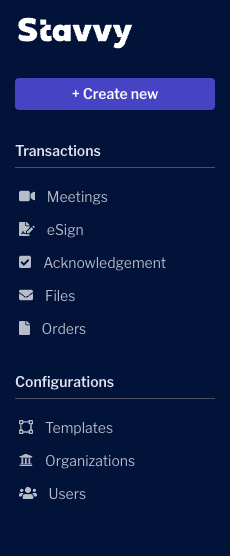 + Create New (Meeting, eSign, Order, etc)
Transactions
Meetings (Upcoming, Past, Cancelled)
eSign (Learn more here)
Acknowledgement
Files
Loan files
Orders (Title/Settlement/Foreclosure Orders)
Configurations

Templates (Learn more here)
Organization (Invite vendors, connected to files/orders)
Users (Learn more here)



---
CREATING A MEETING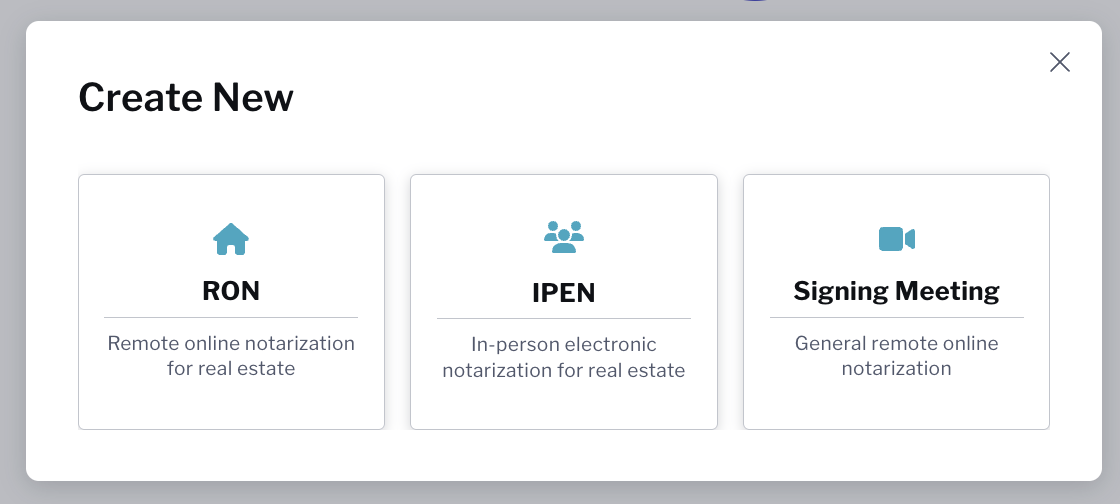 Click + Create Meeting

on the Meeting Page, or

+ Create New

at the top left of any screen in Stavvy

Choose type of Meeting
RON
is for real estate related remote online notarization signings,
Signing Meetings
are for non real estate related RON signings and
IPEN
meetings are for in-person electronic notarization. See more
here
First Screen
Select Meeting type:
Purchase, Refinance, Equity, Modification
Enter Property Address (Closing Meetings only)
Enter Meeting Location, Date, Time, and Length
*Optional- add a meeting note that will show in the body of the email invitation
Note: Meeting Length does not limit the meeting to the time selected, it places a time block on the Participants calendars


Second Screen
Select Notary


Stavvy Approved Notaries have a green stamp next to their name
Notaries without a green stamp need to complete their Notary Profile and be approved by Stavvy
Follow this guide to add an external notary

Add Attendees (Signers or Observers)


Note
: Add additional
Signers
at the bottom, or an
Observer
, someone who does not need to sign but wants to be a part of the Meeting. See more
here
Once created, all participants (Notary, signers, and observers) will receive an email invitation to add the meeting to their calendar. This invitation will include a button to join at the date/time of the meeting.

Watch Demonstration Below:
---
Meeting Details Page
Upper Right Icons

Refresh : Refresh the Meeting to see any recent changes
Archive: When a Meeting is Archived, it's unable to be reopened, but all Notary Journal details can still be referenced for the minimum 10 years
More Actions

Add Meeting: If you have multiple Signers that need separate meetings, add additional meetings and select/deselect which Signers to include
Reschedule: If your Client cannot make the meeting and has a new time that works, use the reschedule option!
Cancel: If the transaction is no longer taking place, use this button

Participants: Attendees of the Meeting (Notary, Signer, Observer)

Edit name/email address, or resend the invitation, by clicking on the three dots to the right of a Participant name
Reassign Notary by clicking on the three dots to the right of the Notary name

Documents: Documents to review during the Meeting

---
RUNNING A MEETING
Notary Guide to running a Meeting: here
Signers Guide to joining a Meeting: here
---
POST MEETING ADMIN WORK
From the Meeting Details page, check the Notary Journal whenever you need to reference KBA results, ID upload, certified documents, etc.

Click "Print" to either print or download the Notary Journal
Stavvy is MISMO certified, so this will be accessible and stored with this transaction for a minimum of 10 years
Click on the Meeting Details page, and go to the Documents tab. To download the documents click on the check box beside the documents you wish to download and click the Download icon- or click beside the document and click the Download button
You will also find the Audit Trail in the documents list
Click More Actions on the Meeting Details page and Request Recording if you need a recording of the Meeting